Data Disclaimer
Every reasonable effort has been made to assure the accuracy of the data provided, however, The City of Newport Beach and its employees and agents disclaim any and all responsibility from or relating to any results obtained in its use. The GIS database and data in the product is subject to constant change and the accuracy and completeness cannot be and is not guaranteed. THE CITY OF NEWPORT BEACH MAKES NO WARRANTIES OR GUARANTEES, EITHER EXPRESSED OR IMPLIED AS TO THE COMPLETENESS, ACCURACY, OR CORRECTNESS OF SUCH PRODUCT, NOR ACCEPTS ANY LIABILITY, ARISING FROM ANY INCORRECT, INCOMPLETE OR MISLEADING INFORMATION CONTAINED THEREIN.
The City of Newport Beach Map Viewer allows for easy access to the City's GIS Data, including themed maps and detailed harbor information. The site also allows for various searches to be performed and more detailed attribute information to be retrieved.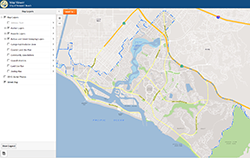 The City of Newport Beach Projects in My Neighborhood Map Viewer provides access to information on Police and Fire Department Calls for Service as well as Capital Improvement Projects, Planning Activities, and Building Permits going on in and around your neighborhood. Click on a point to view additional information.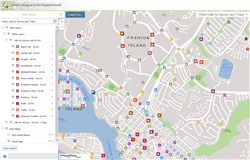 The City of Newport Beach Residential Pier Permits Map Viewer provides access to view the permit area for each pier and the five year rate adjustments.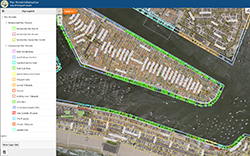 The City of Newport Beach Very High Fire Hazard Map Viewer denotes the CAL Fire Very High Fire Hazard Severity Zone that falls into the Local Responsibility Area of Newport Beach and the requirements of Government Code 51175-89.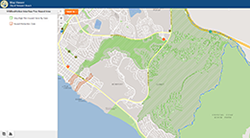 The Parking Map Viewer enables the user to look for designated public parking areas in the City, whether it be by parking lot or parking metered areas. The "Select Area to Visit" pulldown has a list of some of Newport Beach's most visited areas and will zoom you to those locations.