"Destination Art" exhibition of acrylics by Sherry Marger closes
The Newport Beach City Arts Commission presents Destination Art, an exhibition of acrylic paintings by Sherry Marger, on display at the Newport Beach Central Library gallery.
Sherry Marger is an acrylic landscape painter, born in New York City, but raised in New Jersey. As a youngster, never having been to an airport or on an airplane, little did she suspect that in the future, she would be able to fly to far off places of more interest and experience firsthand the astounding beauty that awaited her.
Studying computer graphics and layout design, led to a position at a Public Health Department working on instructional materials for Educators. Eventually she started her own business designing custom invitations.
It wasn't until much later in life, when she started traveling that she began to paint more seriously. Always having photographed, catalogued and then assembled albums of trips, she realized how painting could further interpret her traveling world experiences to herself and to others. Traveling became her inspiration. Destination Art has become her passion. As a studio artist, she works in an impressionistic style with acrylic paints. Plein air watercolor sketching is done on location to lay the groundwork for the finished paintings done on either canvas or paper in her studio.
The exhibition will be on display November 4, 2019 through January 3, 2020, during library operating hours.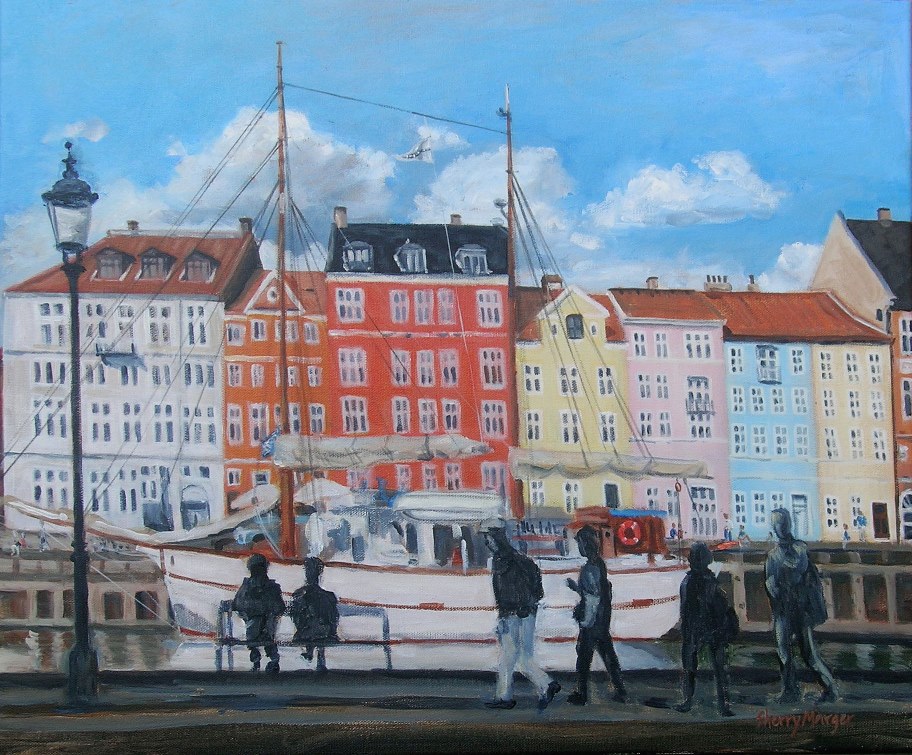 (Nyhaven Colors by Sherry Marger)
Follow Newport Beach Cultural Arts
Facebook @newportbeacharts
Twitter / Instagram @nbculturalarts
Return to full list >>