General Plan Update Steering Committee (Dissolved)
Purpose

The Steering Committee is intended to:
A. Ensure there is sufficient public outreach and stakeholder input regarding the update to the General Plan;
B. Provide guidance to City staff regarding the preparation of a Request for Proposal for services to update the General Plan;

C. Make recommendations to City Council regarding the selection of a consultant to assist in the update of the General Plan;

D. Provide guidance to City staff and the consultant through the "Listen and Learn" process; and
E. Make other recommendations to the City Council regarding the update of the General Plan, as necessary.
Committee Authorization
Adopted by Council Resolution No. 2019-7
Amended by Council Resolution No. 2019-20
Dissolved by Council Resolution No. 2020-06
Progress Report
The Steering Committee shaped the request for proposals (RFP) for community engagement related to a future General Plan update and directed staff to release it on March 25, 2019.The City received four qualified proposals. On May 15, the Committee conducted interviews with three of the four proposers and agreed to pursue Kearns & West further. At its May 29 meeting, the Committee provided a unanimous recommendation that the City Council adopt a professional services agreement with Kearns & West (K&W). On June 25, the City Council authorized the agreement. With the K&W team under contract, staff worked to bring the outline of the community outreach and engagement plan (Listen & Learn), as well as the branding and messaging for the efforts to the Committee for review at its September 12 and September 25 meetings. The Committee will meet again on October 16 to hear updates on the October 26 Listen & Learn launch event, as well as the General Plan diagnostic memo related to the current General Plan and how it may need to change to be consistent with the most recent State mandates. Stay tuned!
For More Information:
| | |
| --- | --- |
| COMMITTEE MEMBERS | APPOINTED |
| Nancy Gardner, Chair | 02-12-2019 |
| James Carlson | 03-12-2019 |
| Catherine O'Hara | 03-12-2019 |
| Ed Selich | 02-12-2019 |
| Debbie Stevens | 02-12-2019 |
| Larry Tucker | 02-12-2019 |
| Paul Watkins | 02-12-2019 |
| Mayor Diane Dixon, Ex Officio Member | |
Listen & Learn Launch Event - Community Fair
The City is launching a Listen & Learn Launch Event in preparation for a future General Plan Update! This Community Fair will be filled with family-friendly activities, lawn games and a chance to connect with your neighbors. Over 30 Newport Beach organizations will be featured and free food will be provided for up to 200 guests. Most importantly, this Community Fair will have activities to gather input from residents on what they love about their City and to share information about the General Plan.
Please contact the Community Development Department at 949-644-3200 or gpupdate@newportbeachca.gov with any questions. Visit https://www.newporttogether.com/ for more information.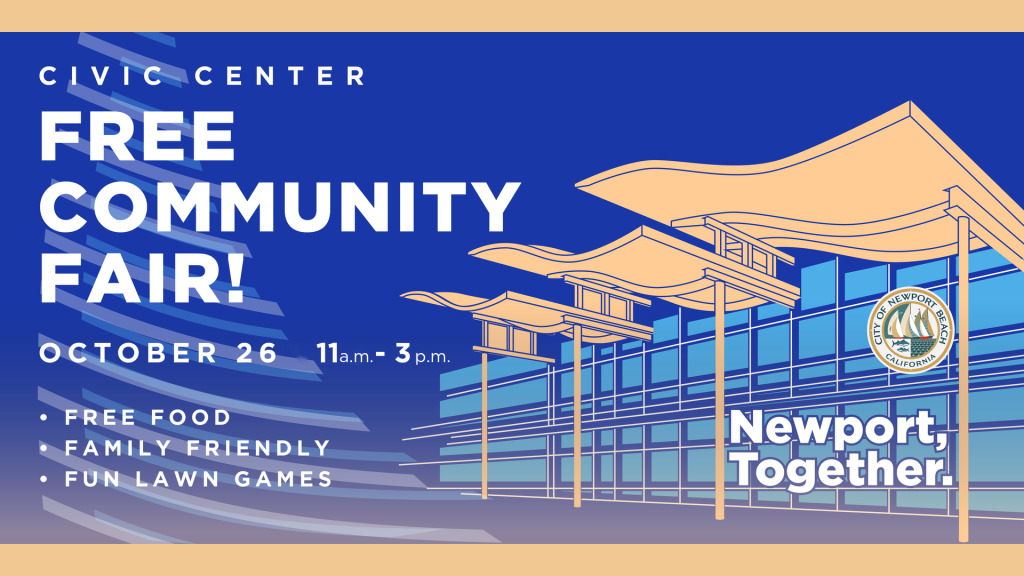 Return to full list >>