OASIS Health and Resource Fair 2019
Free Event!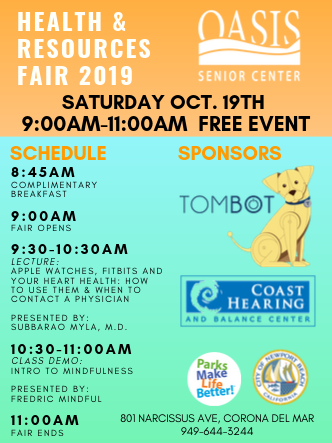 HEALTH & RESOURCES FAIR 2019 OASIS SENIOR CENTER
SATURDAY OCT. 19TH 9:00AM-11:00AM
SCHEDULE:
8:45AM - COMPLIMENTARY BREAKFAST
9:00AM - FAIR OPENS
9:30-10:30AM- LECTURE: AOOK WATCHES, FITBITS AND YOUR HEART HEALTH: HOW TO USE THEM AND WHEN TO CONTACT A PHYSICAN. PRESENTED BY: SUBBARAO MYLA, M.D.
10:30-11:00AM - CLASS DEMO: INTRO TO MINDFULNESS. PRESENTED BY: FREDRIC MINDFUL.
11:00AM - FAIR ENDS
SPONSORS: TOMBOT AND COAST HEARING AND BALANCE CENTER
801 NARCISSUS AVE, CORONA DEL MAR 949-644-3244
Return to full list >>