"Fairy Tales" exhibition of oil paintings by Lauren Mendelsohn-Bass closes
The Newport Beach City Arts Commission presents "Fairy Tales", an exhibition of oil paintings by Lauren Mendelsohn-Bass, on display at the Newport Beach Central Library gallery.
Lauren Mendelsohn-Bass is a Los Angeles born painter who received her Bachelor of Arts at the University of California, Los Angeles. Her work takes the viewer on a journey through the word of superficial reality where artificially alluring and nostalgically innocent context marks darker thoughts, ideas and actions. Playing with the visual tropes of mass marketing and vintage advertisements, her work explores the ways reality is obscured when presented as ostensibly attractive. As popular culture navigates an era of "fake news", social media, and alternative facts, nothing is as it seems. Her paintings examine today's culture where truth is fluid; ideas, issues and events are routinely reframed to reinforce brand.
Inspired by 1950's era advertising, Mendelsohn-Bass evokes a classic Film Noir feel and its emotive German Expressionist roots. Mixing pop imagery and classic noir iconography, she draws the viewer into an enticing world, only to find all is not as it appears.
The exhibition will be on display March 9 through November 6, 2020, during library operating hours.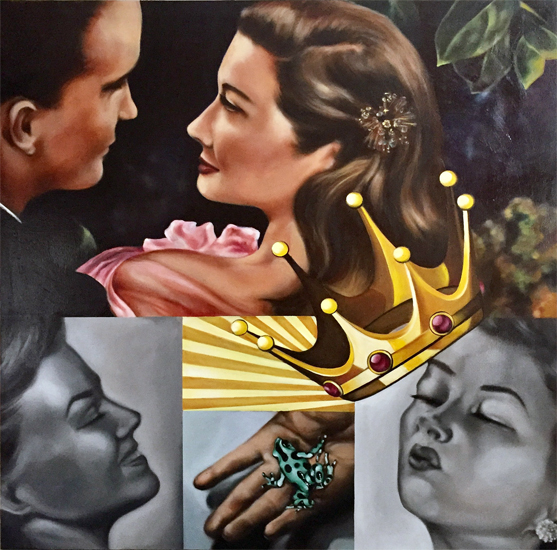 (The Princess and the Frog by Lauren Mendelsohn-Bass)
Follow Newport Beach Cultural Arts
Facebook @newportbeacharts
Twitter / Instagram @nbculturalarts
Return to full list >>