Summer Zine Exchange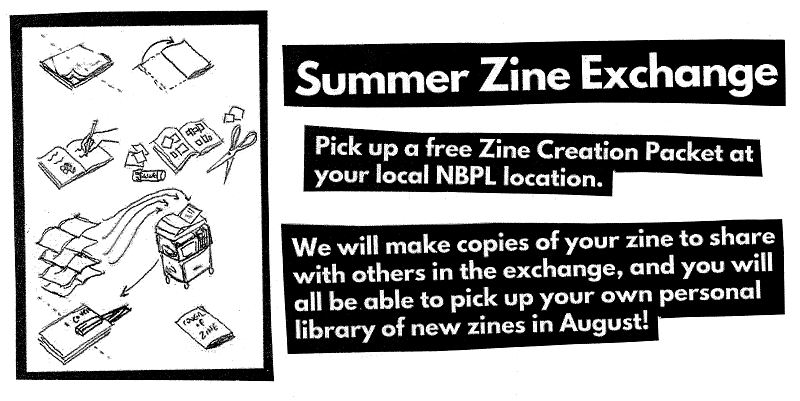 Hello and welcome to the Newport Beach Public Library's Summer Zine Exchange! Celebrate International Zine Month with NBPL.
We are so excited that you have decided to create something to share with others! Not sure what a zine is? We made you a zine for that!
The Zine Exchange process:
Pick up a zine creation packet at your local Newport Beach Public Library location
Use the included paper and marker (and your own photos, drawings, magazine clippings, or whatever else you'd like) to create a zine
Return your completed zine and name form in the supplied baggie to any NBPL locations by July 31st 2021 (no need to staple them, we can do that for you; and the sharpie is yours to keep!)
The library will make (black and white/grayscale) copies of your zine and put them in other people's bags, and their zines in yours
You can pick up your new zine collection starting August 15th, 2021 (zines will be held at the Central Library, but we would be happy to send them to the branches on request)
Additional information:
You retain all rights to your own work. The library will only make and distribute copies of your zine for this event.
To respect your privacy, your name will not be attached to your zine by the library. We are collecting names only to help find your baggie of stuff when you come pick it up… feel free to use a pseudonym, but include your name in your zine if you want!
We will do our best to return your original work to you along with your new zines, but there's always the chance they could get bent or torn.
Return to full list >>