Sculpture Exhibition Phase VII Public Online Survey Closes
Date:

01/10/2022

(all day)
Sculpture Exhibition in Civic Center Park - Phase VII
The Newport Beach City Arts Commission invites members of the community to vote on the final selection of sculptures in Phase VII of the rotating exhibition in Civic Center Park. Facilitated by Arts Orange County, the public survey is open to Newport Beach residents only and will remain open until January 10, 2022. To access the survey, please go to sparkoc.com and follow the instructions provided.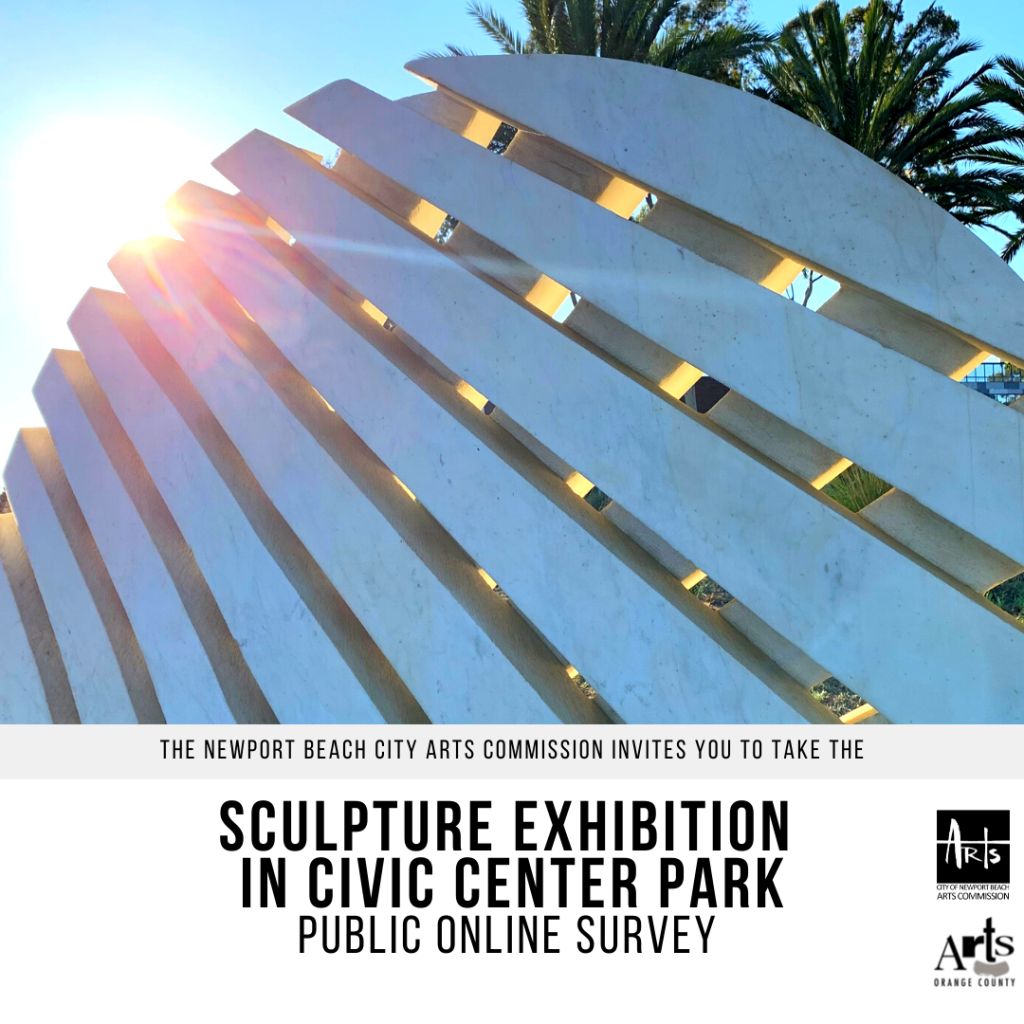 The sculptures selected for public vote were chosen by the City Arts Commission, curatorial panel members May Sun, freelance artist and professor at the California Institute of the Arts with a permanent collection at the Museum of Contemporary Art in Los Angeles, and Brian Peterson, muralist, former industrial-designer at Kia Design Center America, and founder of the nonprofit organization, The Faces of Santa Ana; along with representatives from ArtsOC at the December 9, 2021 regular monthly meeting. Panelists discussed criteria for artwork under consideration and reviewed sculpture applications. The panel evaluated the works in four critical areas -- artistic merit, durability, practicality, and site appropriateness -- and then selected artworks of various sizes, mediums, and subject matter for the public online survey. Unlike previous years, the public's vote will select the final ten sculptures that will be installed for Phase VII of the sculpture exhibition. These sculptures will be reviewed by City Council at the January 11, 2022 Regular Meeting for final approval.
Selected sculptures will be on loan to the City of Newport Beach for two years. Sculptors, whose artworks are chosen for installation in Civic Center Park, will receive a small honorarium. The City is responsible for installing the art, while artists are responsible for the maintenance and repair of their work. The outdoor exhibition attracts an audience of all ages, including schoolchildren, the local community, and visitors from Southern California and beyond.
Take the online public survey and select your favorite sculpture.
Return to full list >>