The Catcher in the Rye by J. D. Salinger
Reviewed by Aria
Post Date:
02/01/2018 9:00 am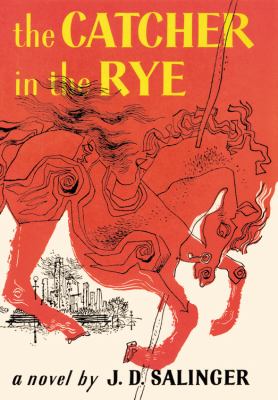 The Catcher in the Rye, by J.D. Salinger, has a very unique story. I enjoyed reading the novel, as observing Holden's psychological and physical decay over the course of a few days fascinated me. It interested me to see how something as tragic as a death could affect a person's mental health if not dealt with properly. Given that he never had time to talk through his feelings with anyone, Holden makes many poor decisions that I found interesting to analyze. I also appreciated the use of symbols throughout the book. When Holden asks, "do you happen to know where they go, the ducks, when it [the pond] gets all frozen over?" (60), we learn more about his thoughts and personality in a more simplified way. In a broader sense, the pond freezing refers to the transition between childhood and adulthood. While I appreciate several aspects of this novel, I dislike a few parts as well. I found it very difficult for me to become really excited about, as it had no main, suspenseful plot. The book seems like more of a timeline of one character than a story, and personally, I enjoy stories with major plots and twists. Also, the story did not have a very satisfying ending, and although we know Holden sought help eventually, not much information is given about life after that.
Through this work, I learned more about myself, the human mind, and coming of age. The ways in which Allie's death impacted Holden were fascinating to see. Allie's death created many emotional problems for Holden, and never having the chance to talk them through only made matters worse. I learned just how damaged and deranged the mind can get with tragedies. The story prompted me to consider what causes me to think about things the way I do, and if anything from my past that I should have coped with by now plays a major role in my daily life. The book gave an interesting perspective on coming of age as well. Holden feels reluctant to come of age given all the phony adults he meets, and he sympathizes with people who portray innocence of youth found in children. I learned about different views people have on coming of age, and why some people might feel reluctant to come of age. This book prompted some interesting discussion and analysis, and it helped me learn more about humans and how the mind works.
This book was very interesting to me, as I am somebody who is very curious about psychology. I constantly think about why people do things and say things, as there has to be a purpose for it, and what they are thinking. This book only expanded my interest in psychology, and I recommend anybody who is interested in why people act the way they do and what they are thinking, to read this book. It is a classic book many people have heard of, as it tracks the very unique psychological decay of Holden within 24 hours.
Check out The Catcher in the Rye at the Newport Beach Public Library.
Return to full list >>