Bob: No Ordinary Cat by James Bowen
Reviewed by Christina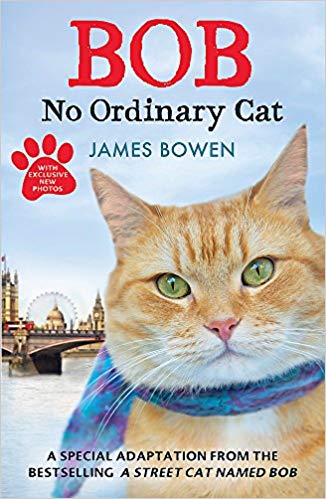 'We are all given second chances every day of our lives, but we don't usually take them. Then I met Bob.'
Life was strangling James until a puff of sunshine cat-walked into the soul of the homeless musician, offering him a paw to take on the world. With barely enough to scrap by, James was skeptical at first to take in a stray cat that showed up at his front door, but Bob's furry paw quickly melted his heart. The feline followed James around London, refusing to be left alone at home. Bob would jump and post himself on top of James's shoulder like a captain surveying his crew, attracting the woo's and ah's of pedestrians.
Bob soon became James's companion whenever he busked in the streets of London. Whenever Bob yawned along with the guitar, coins would tinkle into James's guitar case. Bob's big, innocent eyes could bewitch anyone into donating a bit of their shares.
James began making some good money, but his drug addiction tormented him. He wanted to do something with his life, for himself and for Bob. With the new burst of encouragement, James decided to attempt to overcome heroin all while selling magazines, hiding from street patrols, and helping Bob overcome his tendency to sneak bites from trashcans.
Then one day while James busked near a subway station. A big, black dog trampled into Bob's territory, growling and cursing at Bob. Poor Bob jumped three feet into the air before dashing away hurriedly. Heartbroken, James searched everywhere for Bob but with no luck. It seemed that Bob was gone for good… or does it?
Bob: No Ordinary Cat is a heart-melting 'tail' that will tickle the whiskers of even the most preposterous cat haters.
I rate this book a 10/10. I mean, how could you not when you're hit with Bob's brilliant emerald eyes? The golden feline stared me down as if daring me to flip the page, and I was happy to oblige. The content was exactly the adventure the cover promised, whisking me off to the bustling streets of London where James Bowen and Bob faced the world—and won.
Nothing was more compelling in Bob: No Ordinary Cat than the brute truth in their story. It was hard to imagine this book as a nonfiction. This truth ignited the hope in me that this world is full of second chances, it is only a matter of snatching them. As soon as James was ignited with the hope to end his drug addiction, life had started to turn for the better, slowly but surely. Each picture sprinkled within this book speaks James's and Bob's adventure, churning the tracks of this rollercoaster up and down.
This was a book I read simply to satisfy my gnawing thirst for literature when I've devoured every book on my bookshelf. Never did I imagine to find a feline with such a big heart.
If you are ever feeling down or needing a little nudge in the right direction, Bob is here for you. All you have to do is let him in!
Return to full list >>