The Leavers by Lisa Ko
Reviewed by Kimi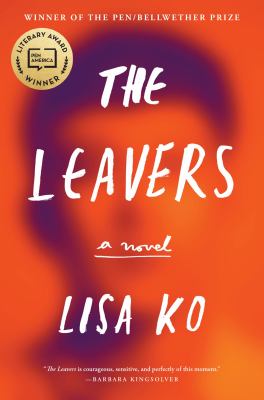 Lisa Ko's The Leavers is a coming-of-age novel that tells the story of a young boy named Deming (Daniel) Guo whose mom Peilan (Polly) Guo, an undocumented Chinese immigrant living in New York, mysteriously disappears one day. Deming is eventually adopted by a couple, Peter and Kay Wilkinson (both college professors), and moves to the predominantly white community of Ridgeborough. Peter and Kay change Deming's name to Daniel. In Ridgeborough, Deming struggles to adjust to the new environment, and faces conflict with Peter and Kay, who force him to focus on his education even though his true passion is for music. Later, Deming receives a message about his mom (Polly) from Michael, a boy he grew up with before moving to Ridgeborough. This sets Deming on a journey to solve the mystery of his mom's disappearance and learn more about his past.
Throughout the book, Ko describes the immigrant experience in the United States and how it relates to American values. She accomplishes this by switching perspectives between Daniel and Polly, as well as detailing both Daniel's childhood with his mom in the Bronx and his life in Ridgeborough. One of the key values which Ko comments upon is the American Dream. The American Dream was the driving force for the birth of this nation. The first settlers came to the New World in search of opportunity, and immigrants today follow their footsteps, leaving family and friends for the possibility of a better future for themselves and subsequent generations. But Ko's novel suggests that the American Dream is just that: a dream. Polly leaves her father and hometown behind and travels to America. She works from sunrise to sunset, but still cannot pay off her debt or afford her own apartment. Eventually, ICE captures her and sends her to Ardsleyville detention camp, where she suffers in inhumane conditions for fourteen months. And when she finally returns to China, she ends up with the opposite of a dream chronic nightmares. Ko's novel serves as a wake up call for America. She shows that the American Dream is fading, and something must be done to bring it back to life.
Overall, I greatly enjoyed Ko's novel and would highly recommend it to anyone in need of a good read. I appreciated how Ko focuses on the immigrant experience in America through the eyes of Polly, honestly detailing her struggles and successes, and showing how the American Dream does not always come true. Another aspect of the novel which I was impressed by was Ko's description of the many different world of Deming's life. I have read numerous books in the past which are set in multiple locations throughout the course of the story, and I've found that it can often be quite confusing to follow along. However, Ko is a master at keeping the reader involved in the story and not confused as to what is happening. She successfully details Polly's and Daniel's lives in the Bronx, Fuzhou, and Ridgeborough, taking the reader on a journey among different worlds in just 335 pages.
Return to full list >>