The Absolutely True Diary of a Part-Time Indian by Sherman Alexie
Reviewed by Christina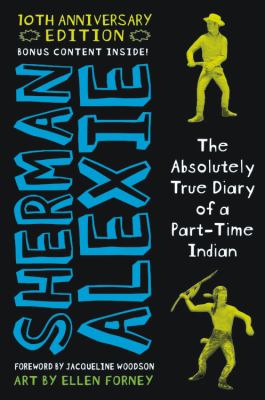 Born with excess spinal fluid, his condition left Junior with a lisp and a stutter. His one eye was near-sighted and the other was far. Other Indians on the reservation bullied and made fun of Junior, calling him names except when Rowdy, Junior's violent best friend was around.
They began their first year of high school at Wellpinit, and Junior was all excited until he realized his mother shared his textbook 30 years ago. In frustration, he threw the geometry textbook and it hit Mr. P square in the nose. However, instead of mean words, Mr. P apologized to Junior for terrible teaching and convinced him to leave the reservation in search of hope before the reservation breaks his spirit, just like it broke his sister's. After careful consideration, Junior took Mr. P's advice and searched for an education in the all-white, highest-ranked Reardan High School. He met Gordy, a bookworm, Penelope, a kind gal, and Roger, the school jock.
On the reservation though, Rowdy and the rest of the Indians felt betrayed. They began ignoring Junior and some even jumped and bullied him. Rowdy stopped responding to Junior's comics and began a rivalry against Reardan's basketball team which Junior was in. Meanwhile, many of Junior's family got into accidents that resulted in their deaths. All this piles on top of Junior's struggle to find acceptance in Reardan and on the reservation.
Junior's stay at Reardan impacted his views on poverty and privilege. One of the most significant differences between Junior and other kids at Reardan was the fact that Junior was poor. Embarrassed by his poverty, he tried to hide the true state of his wealth and resorted to lies in case of suspicion. Yet through his stay, Junior realized that the privilege that accompanied wealth and white skin didn't immunize his friends from suffering. Gordy has the social capability of a teaspoon while Penelope is bulimic with a potentially life-threatening eating disorder. He discovered that whether rich or poor, they were all… humans. Problems of privilege are no less than problems of poverty, and neither kind is less real. The one difference is that poverty prohibits opportunity and poor people often lack the privilege to find help for their emotional struggles.
I rate The Absolutely True Diary of a Part-Time Indian a 8/10. Props to the main character's tragic humor yet still sincere tone. It's a read that delves deep into the issue of acceptance. Whenever something tragic happens, Junior uses his laughter and optimism to mask his pain.
"Tetris taught me that when you try to fit in, you'll disappear." --Anonymous
Yet despite it all, as a girl, there are parts of the text that I simply can't relate to. Differences in culture, perspective, and habit may contribute to this. It seems like the book is targeting a male audience who would be more keen and familiar to the jokes and quirks of this book. I would recommend this book to boys, but not so much to girls.
Check out The Absolutely True Diary of a Part-Time Indian at the Newport Beach Public Library.
Return to full list >>