Anthem by Ayn Rand
Reviewed by Nicholas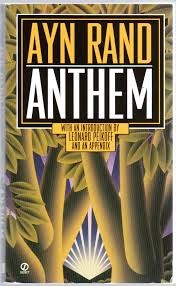 In modern society, we tend to honor those with special characteristics and extraordinary talents. But the complete reverse is true when perhaps the biggest crime is "being too tall" or "being too quick," which is reality in Anthem.
Ayn Rand centers her novel around main character Equality 7-2521. From a young age, he was different. He secretly learned how to write, violating the laws that ban solitude. Despite the name of equality and a set of numbers to strip his individuality, Equality 7-2521 was still special. Rather than being praised for his superior height, quickness, and intelligence, Equality 7-2521 is forced to beg for forgiveness, simply for being too good. Rather than reach his aspirations of becoming a scholar, the Council of Vocations assign him to a role as a street sweeper.
The story then flashes back to a scene where at age 10, Equality 7-2521 watches as the "Transgressor of the Unspeakable Word" is public executed for the crime of using the word "I." In the Transgressor's last moments, Equality 7-2521 recalls them locking eyes, symbolically passing down this quest for individualism to him.
Back in the present story, Equality 7-2521 returns to the secret tunnel where he learned to write. Here, he comes up with a far greater discovery- electricity. He invents the light bulb, a creation he plans on displaying at the annual World Council of Scholars. However this plan fails when on one night, Equality 7-252 returns to his dwelling late and is questioned. Refusing to reveal his invention earlier than planned, Equality 7-2521 resists and is thrown into the Palace of Corrective Detention where he is held and tortured.
Prior to this terrible event, Equality 7-2521 has one of his rare positive encounters. He meets The Golden One, a beautiful peasant girl who he falls in love with. They begin to form a bond and Equality 7-2521 constantly thinks about her.
The time finally comes for the World Council, but Equality 7-2521 is still stuck in jail. He manages to bust out and reach the Council, yet his grand invention is scorned rather than praised. Fearful of his intellect, the Council threatens to kill Equality, who flees to the Uncharted Forest. Here, along with The Golden One, Equality 7-2521 makes discoveries that motivate him to start a new civilization, based on the power of ego and self.
The key concept explored in this book is the common dystopian topic of conformity. We see attempts by society to tear down the "best" rather than to try and bring up the rest. Equality had the potential to make huge advances to society, through his inventions and overall talent. However, to make everything fair and equal, his work is hidden and progress is made impossible. In worlds with conformity, this is the reality. This topic is also spoken against in books such as Brave New World and short story "Harrison Bergeron."
This book earns a 8/10 rating. Ayn Rand's beautiful writing combined with an interesting story make Anthem a rewarding read. However, at only 50+ pages, the book lacks time for character development. The ending is also rather unrewarding, as it leaves off on a lackluster cliffhanger. Overall, I would recommend the book as it is a quick read that teaches a valuable lesson.
Return to full list >>