The Problem With Forever by Jennifer Armentrout
Reviewed by Aaron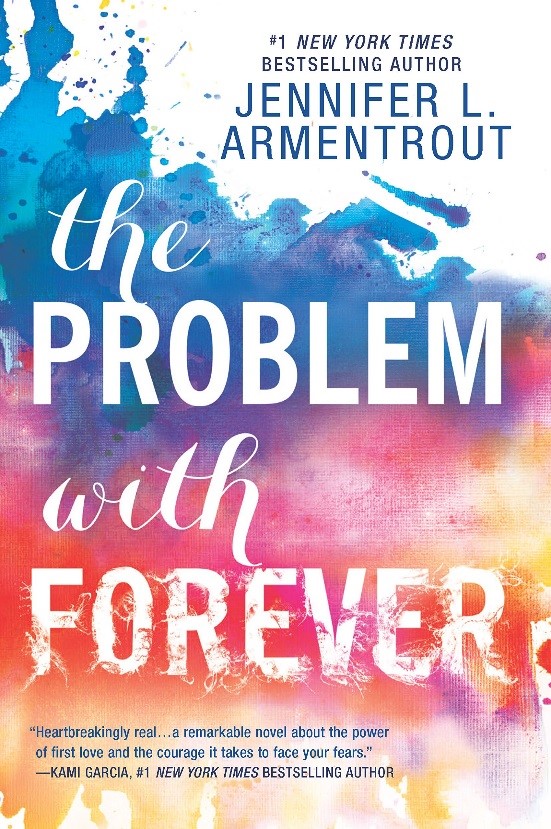 The book, The Problem With Forever, is a realistic fiction that foretells of the troubles and hardships that a teenage girl, who had childhood trauma faces as she attends public school for the first time. From birth, main character, Mallory Dodge, has been labelled an orphan, living from place to place. However from a young age she was adopted into a foster home with an abusive foster dad and an irresponsible, drunken foster mom. Mallory, from her guardians, was taught that silence was the best option and staying quiet would give you no troubles. She would often be beaten and yelled at by her foster father and through this whole childhood, her one life saver was her "brother" who was adopted into this family with her. Her savior, Rider, at night would comfort her and take all the punishments and blame for her. He was like her knight in shining armor and did whatever he could to protect her. One night there was an accident in which Mallory was sent to the ER and afterwards, all the bad things that their foster parents had done to them were exposed and both Rider and Mallory were relocated to a different home.
Years later after being separated for so long, Rider and Mallory meet again in a public school under a lucky circumstance. Mallory, who had been taking therapist lessons was finally ready to embrace society once more, or so she thought. At school after meeting Rider she deals with many social pressures and the ultimate issue, her feelings for Rider. At school she becomes exposed to people of all kinds and realizes that these past years with her new foster parents have been very safe and sheltered. Mallory had been shielded from the outside world and now in school, getting beat up, selling drugs, drive by's have become a mythical reality. All of this, because of Rider and his circle of friends. As Mallory tries to get by high school, she discovers her feelings for Rider and his world is now opened up to her and this leads to conflicts with her parents who know what type of people Rider deals with and want to protect Mallory from that.
This book was a good book in my opinion as it was a good story illustrating the gradual development of Mallory's character and the metamorphosis that she goes through from an insecure child to who she later becomes, a great, beautiful butterfly. This was a well-written book that falls under the bildungsroman genre and depicts such a wonderful, gradual change in the main character as she matures under the social pressures of society. Personally I really enjoyed this book the character development was really captivating and the character consistency was great. I would rate this book 4.9 stars because I thought that all the problems that the main character had to go through were realistic and authentic. In addition the events that happened to the main character were very relevant and crucial to the development of Mallory. I feel like everything was well thought out and could be made into a movie. As I read it, I could picture everything happening in my mind and and it really brought the characters to life, drawing out their inner personalities and true selves. The only thing that I found not to my liking was that at the end, one of the events that Mallory reflected on that influenced her could have been replaced with a better one. But otherwise, the book was really well written and I would recommend it to fellow high schoolers.
Check out The Problem With Forever at the Newport Beach Public Library.
Return to full list >>