Library of Souls by Ransom Riggs
Reviewed by Christina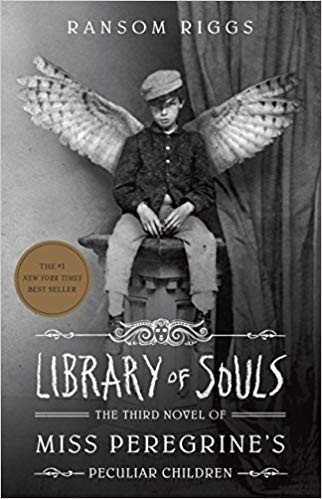 A boy with extraordinary powers. An army of deadly monsters. An epic battle for the future of peculiardom.
The adventure that began with Miss Peregrine's Home for Peculiar Children and continued in Hollow City comes to a fantastical conclusion with Library of Souls . As the story unfrill, sixteen-year-old Jacob discovers a powerful new ability--to control hollows, monsters bloodthirsty for his soul. He was beginning to unravel the extents of his peculiar powers, but will he rise to his fullest potential before it's too late?
Soon, Jacob's diving through history to rescue his peculiar companions from a heavily guarded fortress after being captured by wights who are out to extract their souls. Accompanying Jacob on his journey are Emma Bloom, a girl with fire at her fingertips, and Addison MacHenry, a dog with a nose for sniffing out lost children.
Together, they'll travel from modern-day London to the dark and bloodcurdling alleys of Devil's Acre, the most wretched slum in all of Victorian England. It's a place where the fate of peculiar children everywhere will be decided once and for all.
Library of Souls , the third and final installment to the best-selling series Miss Peregrine's Peculiar Children , is a 9.5/10. It's truly a thrilling finale, and I feel Riggs put extra effort in describing Devil's Acre, where peculiar outcasts lived under slavery and injustice. I learned being peculiar, someone with supernatural powers, may be a curse disguised as a blessing.
I found the most intriguing as well as confusing piece of character development in Betham, one of Miss Peregrine's two brothers. He had agreed to aid Jacob and Emma in freeing the captured ymbrynes and peculiars, but he was an opportunist at heart, planning to betray the peculiars at any moment. His inventions, though
well-intentioned, were the root of the creation of hollowgasts and wights, creatures seeking to consume peculiar souls. Betham was a traitor, but he also ended up being the reason peculiardom was able to achieve peace. My only critique is that Betham's intentions for betraying the peculiars and then betraying Caul, his brother and the ultimate villain, was unclear. He knew Caul could never be trusted, and that Caul would never let him share the power. Yet he suddenly had a change of heart after rescuing the peculiars out of Caul's fortress.
An opportunist disguised as a friend can be every bit as dangerous as an outright enemy.
If you've ever dreamed of being peculiar, someone with a supernatural ability, I recommend this book to you. Library of Souls taught me with great power comes greater risks of death and mad wights seeking to consume your soul. Put simply, it's not all sunshine and daisies. Jacob and Emma have to decide upon who they can trust and who they cannot, for peculiars in Devil's Acre were drunk on ambro and would do anything to consume their fellow peculiars' souls. This book blends thrilling adventure with never-before-published vintage photography to create a one-of-a-kind reading experience.
Check out Library of Souls at the Newport Beach Public Library.
Return to full list >>