Outlander by Diana Galbadon
Reviewed by Cloe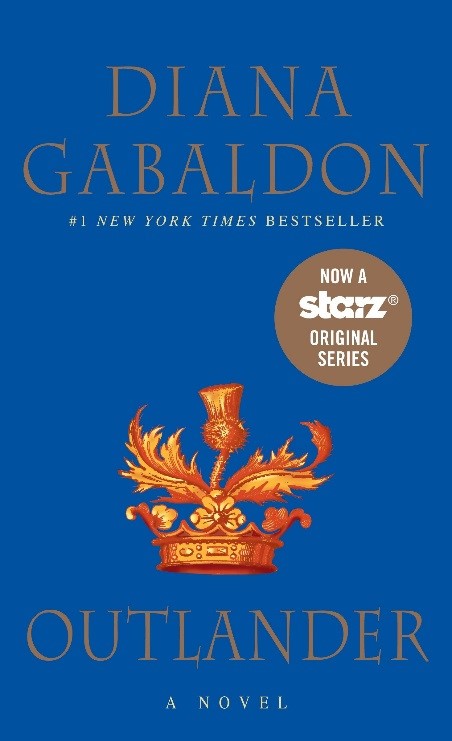 Outlander, by Diana Gabaldon, is an exquisite novel about an 20th century englishwoman named Claire Randall. A former World War II nurse, Claire joins her husband Frank on a trip to Inverness, Scotland where they learn both Frank's family history and the folklore of this charming town. One day as Claire explores a mystic ancient stone circle, something strange happens. She soon finds herself in Scotland's past—1733, to be exact.
Forced to live in a world where suspicion runs high and horses are the main form of transportation, Claire does her best to survive the unimaginable, all the while trying to return to her beloved husband. Danger lurks around every corner, especially now with the threat of Frank's ancestor, English captain Jack Randall. In the midst of these new conditions, she soon finds herself married to the Castle horse keeper and local Scot, James Fraser. Together they work at the castle for the MacKenzie Clan before travelling the Scottish countryside. As they fight the English and try to avoid capture their passion grows. Soon Claire begins to dread the end of their journey and the return to her old life. She must now look within herself to seek the truth about her journey to the past and decide where her loyalties truly lie.
Though this is a long book, Gabaldon's writing makes it worth every minute. Her engaging imagery and symbolism paired with a seemingly effortless character development work together to create a literary world filled with excitement, romance, and mystery. One of my favorite parts about this book is Claire's stubbornness. Much of the character development can be seen in the way other characters respond to Claire's unswayable strength. Her unwillingness to give in to the pressures of 18th century society and the men around her gives the reader someone to root for. This persistent quality makes Claire's character so much more likable and interesting overall.
I also enjoyed the fantastical side of the novel. Gabaldon's well researched work breathes life into mythical Scottish creatures and tales, exploring topics such as witchcraft, changelings, and the Loch Ness monster. Even so, Gabaldon was still able to create a relatable connection between the reader and the plot. Through Claire, Gabaldon makes connections between the Scottish-British battles of the 1700s with the violence and destruction of World War II. Claire continues to cleanse wounds and uses her medicinal skills to help others. The folklore and magic of Scotland contrasts well with the harsh realities of their everyday life and pulls the reader even further into the lure of the novel.
This is definitely a more mature book as it contains topics from romance to violent 18th century torture. However, in my opinion, these are some of the things that make the novel so engaging and suspenseful. Overall I would probably rate this book a 9/10. I would definitely recommend Outlander to anyone who appreciates both fantasy and historical fiction novels, as well as teens and young adults looking for their next great read.
Return to full list >>