The Plea by Steve Cavanagh
Review by Aaron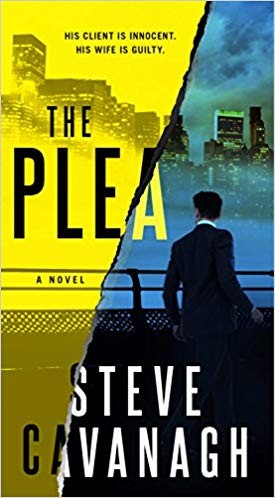 Written by Steve Cavanagh, The Plea, is a well written fiction piece telling the generic good vs. evil story but with flavorful modern-day modifications. The story details in modern day, maybe a couple years into the future in which David Child a teenage billionaire, founder of a massive social media network, is charged with first degree murder of his girlfriend. Though unlikely, the evidence has been stacked against him. David Child was found covered in identical gunshot residue as the gun. In addition according to security cameras placed in the apartment he was the only one seen leaving the apartment between then and the death of his girlfriend, Clara. Finally, as he was driving, as fate would have it, he had gotten into an accident with a pickup truck and it was then that the gun used to kill Clara was discovered in his car, with residue matching the ones on his clothes.
David Child has been discovered by the government to have relations with New York's best known and most prestigious law firm, Harland and Sinton's. However, their name is the only thing that might be innocent. Behind the successes and wealth is really one of the biggest money laundering operations there is. David Child has been connected to designing the money laundering system so that it's almost foolproof and untraceable by the FBI. For the case, Sinton who has befriended David is acting as his lawyer to keep him in check and safe from people who want to use him to exploit the law firm's secret.
Eddie Flynn is a con artist-turned-lawyer who has a family and a job as a defense lawyer. He is hired to get David Child to confess to the murder of his girlfriend. In doing so, Flynn, covertly working for the FBI and a CIA agent, Dell, would be able to let Child strike a deal with the government to hack Harland and Sinton's system to track the money in exchange for a bail from his crime. There is one catch, after taking this job, if Flynn fails, his wife, who is a bargaining chip, will be arrested and sentenced to jail for life. However, after meeting David Child, he had become convinced that David was innocent. But ultimately threatened with the safety of his wife, Eddie Flynn is forced to comply with the CIA's request. However as events unfold and Gerry Sinton begins to target Flynn's wife who works for him, Eddie becomes more and more convinced that David is innocent. As the plot opens up and spirals, Sinton becomes more obsessed with killing Eddie who is standing in his way. Dell becomes more obsessed with making Eddie convince David to plea guilty. And Flynn himself becomes more obsessed with proving David innocent.
All these motives gradually line up and bring all three together in a final confrontation where deep, shocking secrets are revealed.
Honestly, when I read this book, it kept me up all night because each chapter ended with such captivating page turners. The plot itself was so well designed in that each event seemed so insignificant but was later elaborated on so that everything in retrospect has great significance. I like these types of books. The story made my heart pound and I felt that every page had something to contribute to the plot. Everything was so intricately woven that as the author revealed each event, it felt like its own story but after revealing the grand design, it's just like an epiphany in which everything suddenly connects. In addition, I enjoyed the author's style of writing of suspense but how each time the main character tackles his obstacles with ferocity and skill.
In conclusion, I would rate the book a 9.5 out of 10 taking only 0.5 off because of a slight inconsistency in characterization that I felt.
Check out The Plea at the Newport Beach Public Library.
Return to full list >>