The Nightingale by Kristin Hannah
Book Review by Christina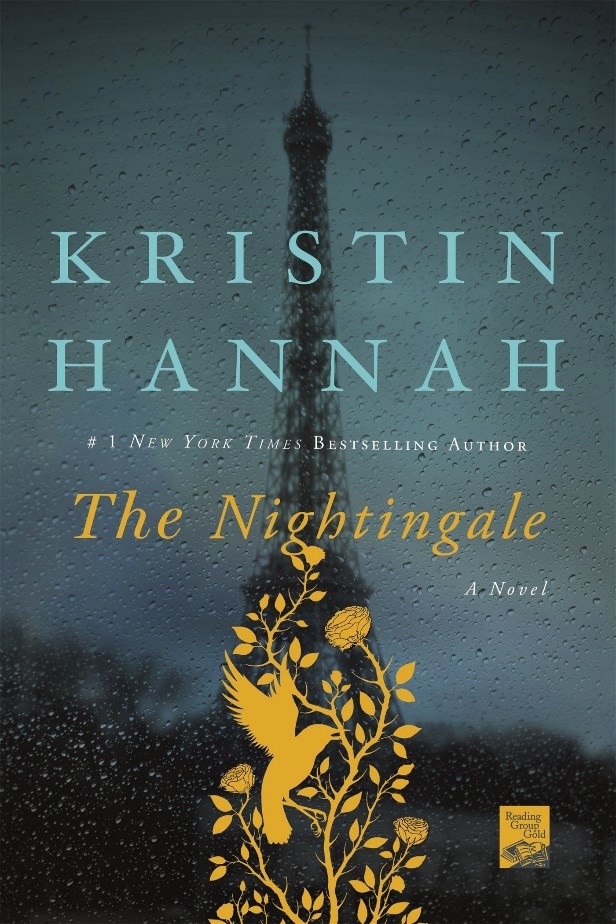 In love we find out who we want to be; in war we find out who we are.
With their father broken from the war and their mother's death, Vianne and Isabelle
must learn to survive. Vianne, the older sister, is a rule-follower. When her father
pushed her away, Vianne left with her young love to start a new life. On the other hand,
Isabelle, the younger sister, is rebellious and speaks her mind. She begged for her father
to love her, running away from school to return to her father's embrace. When the Nazis
invaded France, the two sisters, separated by years, experience, ideals, and passions,
must embark on their own journey towards survival, love, and freedom.
When the war comes, Vianne continues to follow the rules, allowing Nazi officers to
billet in her home, inflict abuse, and arrest of her Jewish neighbors in an attempt to
keep her children safe. Isabelle, who refuses to crawl under German authority, joins the
French resistance movement and works as the Nightingale. She begins guilding Allied
airmen out of France after their planes were shot down, making the long trek across
mountains to reunite them with their families. Their Maman told them someday you
will be best friends and that time would stitch your lives together. But for the moment,
they seemed so different, exact opposites...
The Nightingale captures a part of history seldom recorded: the women's war. Women's
contributions to the war is often forgotten, but they play an integral part to the
revolution. They work as hidden assassins delivering messages, orchestrating bombings,
and rescuing Jewish children from concentration camps.
Isabelle was my favorite character from start to finish, because she was the only one
with the boldness to live, love, and laugh like there's no tomorrow. When the world
closes its doors on her, she refuses to give in, seeking any window of opportunity to
rebel and fight for the Free France. When she discovered her love for Gaetan, she was
afraid to voice her love. She understood how fragile life is and how important it is to
value every day as if it were the last.
I recommend The Nightingale to fans of historical fiction and advocates for women's
rights. Isabelle's revolutionary work is page-turning and the sisters' quests for love is
heart-wrenching. I cried at the end of the book, and I rarely get teary over historical
fiction. The Nightingale is the historical version of Frozen . Both are about sisterly love,
except the dangers in The Nightingale are real and the lives lost are truly gone.
I would rate this book a 10/10. It was a perfect embodiment of the lives of women
during World War II. The sisters taught me how to love and what it means to be human.
It rekindled my sympathy for survivors of tragedies. It is a novel for everyone, a novel of
a lifetime.
Return to full list >>