The Hate U Give by Angie Thomas
Review by Anique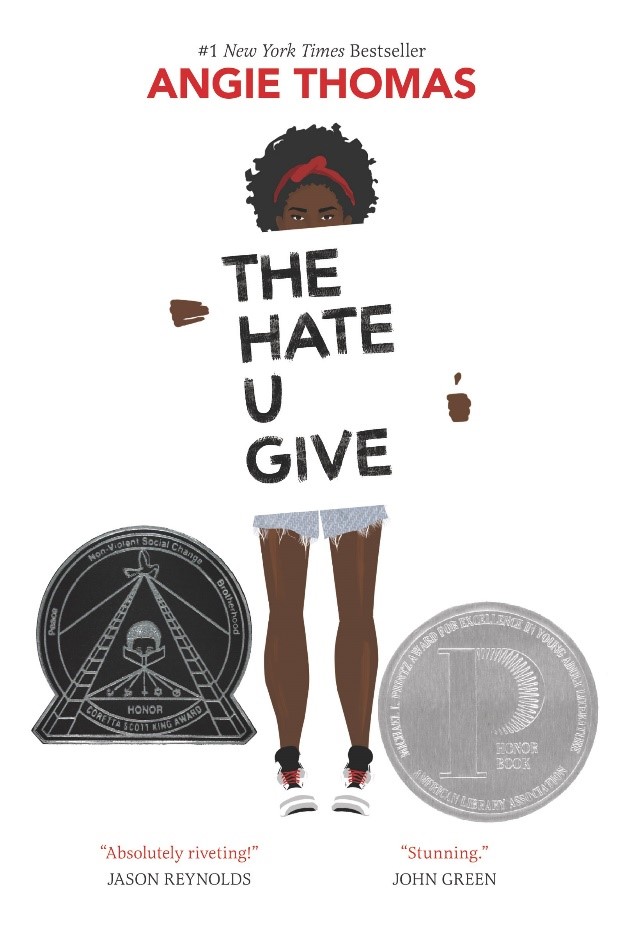 The Hate U Give, by Angie Thomas, gives the point of view of a girl named Starr. Starr lives in Garden Heights (also known as "the ghetto" by people in surrounding areas). Although she lives far away, Starr's mother makes the commute everyday to her mostly-white school. She is joined by her friends and family in an adventure to bring attention to the clear racism that is occuring in her region. She is inspired to do so after her life-long best friend, Khalil Harris, is shot three times by a caucasian policeman for what appears to be no reason at all. Throughout the book, Starr finds the voice she needs to stand up for what she believes in. One of my favorite lines in the book is:
What's the point of having a voice if you're gonna be
silent in those moments you shouldn't be?
I believe this line is important to the story because it teaches a valuable lesson. Starr ponders this idea throughout the book, and towards the end she becomes a hero for the people around her in the same situations. The author does an amazing job showing Starr's struggle with juggling her two lives. On one hand, she is embarrassed that her best friend was a supposed drug dealer. On the other hand, she wants to fight to bring justice to her community. The following is another line from the book that I find interesting.
"Brave doesn't mean you're not scared, Starr," she says. "It means you'll go
on even though you're scared. And you're doing that.
This line shows what Starr's mother told her before she entered the courtroom to present her side of the story before the grand jury. At first, Starr is terrified that doing such a thing will affect what others think about her. Starr later learns that speaking out and defending what she believes in is more important than preserving her reputation before her acquaintances at school. It is important because it signifies another important lesson that is taught in the book. I would rate this book a 9 out of 10. There were some pieces of the book that were a bit unnecessary. For example, many pages in the book talked about food. Although it provides a sense of culture in Starr's family, the amount of times this topic was discussed was quite irrelevant. On the other hand, this book talked about a serious issue in society without antagonizing anyone. There are certain parts in the book where the case with the policeman is not mentioned for a while, but the author always finds a way to relate back to this incident. The parts that don't talk about this tragedy mention other things Starr struggles with in her day-to-day life. The book teaches lessons about bravery and honesty, but also teaches lessons about love and keeping strong relationships with your loved ones. The author always finds a way to incorporate a sense of humor into the right parts of the book, lightening the mood when appropriate.
Return to full list >>