All the Light We Cannot See by Anthony Doerr
Reviewed by Annabelle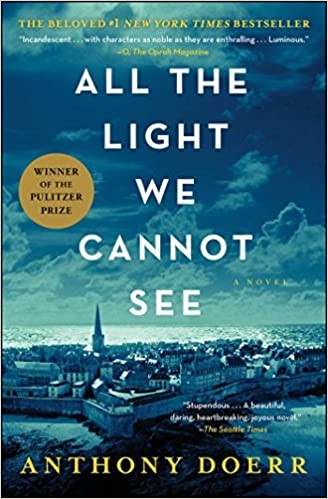 Absolutely beautiful, those would be the words to describe this intricate plot of a heart wrenching story. I honestly do not know how else to describe All The Light We Cannot See. This book is a solid ten out of ten, if not more. It deserves every single praise, award, recognition that it receives. The characters are humane. Something about them makes you want to take their hand and hold them close. I wanted to take them out of the story and hold them dear to my chest because of the heart wrenching their stories. They do not seem like the people in a story but like the girl down from the block and like the boy you frequently say hello to. This made me more emotional because they seemed like someone I saw in day to day life. Before I summarize the story, I want to discuss the age recommendations. This story should be fine for a nice reading for kids ranging from thirteen and up. It does not have a lot of dark points or inappropriate parts of the story, but it does have a lot of emotional parts. If you, personally, can not take a lot of emotional ups and downs I would maybe read this book later. But either way this is a book that everyone should read once in their lifetime. I promise that there will not be any regrets.
The story is based upon a real life situation of when Nazis had taken over multiple countries and how certain groups of people were severely affected. This book is based upon the life of two individuals living in two drastically different places in life. Readers are first introduced to Marie Laurie Leblanc. She is a bright young girl living in Paris. Her father works in the Museum of Natural History, where there is a cursed rock. It is a blue jewel that is rumored to kill people around it. Around the same time that the rock entered the museum's collection, Marie began to lose her sight. Her father needs to be with her and take extra care. But Marie is extremely bright. She loves reading and eventually is able to live with her disability. The next character is Werner Pfennig. He lives in the heart of Germany as an orphan. Werner grew up fascinated with a crude radio that brought him stories and music that could not be heard in times of war. In particular, there was a radio broadcast of a french man. This french man would tell stories and it would give hope to Werner. Werner becomes an expert in building crucial instruments, such as radios and small instruments around the house. His skills put him in the eyes of a local Nazi official, who then put Werner in the military. He was expected to take down resistance against the Nazis and those who would sympathize with their enemy. Werner's and Marie's path proceeds to take a winding path of destruction that leads them to each other.
I want to say that there is so much more to this story than just the characters. The plot itself is so well written. I urge people to read this story and find themselves immersed in the world of All The Light We Cannot See.
Checkout All the Light We Cannot See at the Newport Beach Public Library.
Return to full list >>