A Song of Ice and Fire by George R. R. Martin
Review by Christina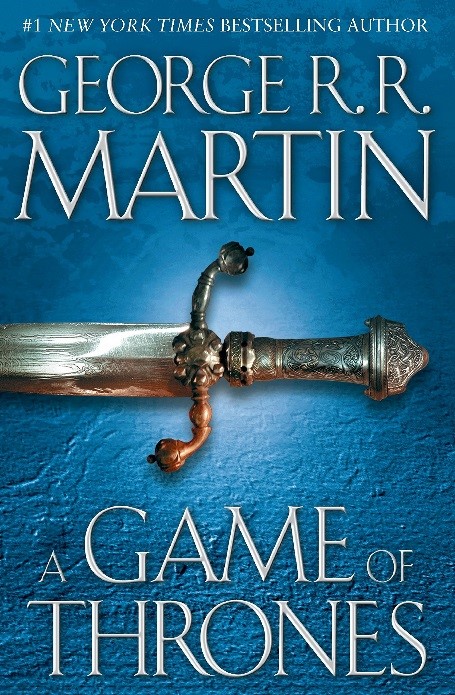 When you play the game of thrones, you win or you die. There is no middle ground.


The game finds its setting in Westeros. After the previous Hand died of suspicious
circumstances, King Robert visits Winterfell to ask Ned Stark, his childhood friend and
strong ally, to be his Hand. Just after the king's arrival with his royal family, Catelyn
Stark, Ned's wife, receives a message from her sister that the Lannisters were behind the
murder of the previous Hand. Though Ned did not wish to participate in the realm's
politics, he accepted King Robert's request in an effort to protect his childhood friend
from his Lannister wife.


In King's Landing, Ned begins to slowly unravel the mystery behind the previous Hand's
death. He knew it had to do with Robert's children. As Ned begins to seek the truth, in
Winterfell, the Lannisters plot to assassinate Bran, Ned's son, who stumbled upon a
hidden romance during one of his climbs that may unravel the truth behind Robert's
bloodline.


Meanwhile on a continent east of Westeros, Viserys and Daenerys Targaryen, the last
surviving members of the family King Robert defeated to be king, seek Khal Drogo for
help to win back the throne that was stripped from their family. Viserys plots to use the
Drogo's men to defeat King Robert, but Daenerys remains skeptical of her brother's
capacity.


I rate A Song of Ice and Fire a 9/10. My only qualms about this book was that there
were too many names and families to remember. It's almost impossible to keep track of
who is whose family and on whose side at the beginning of the novel. I also had to learn
what each family represented and what they controlled. I learned the names better
towards the end of the book, but some characters were still pretty cloudy and their
perspectives seemed to float by like a blur.


But I loved the mind twisting plot points Martin planned. I tried to make predictions
throughout the book about the order of events, but I had never made a correct
prediction. The snakes at King's Landing and the two-faced lords intrigue me.
My favorite character in this book is Arya Stark. I admire her fiery energy and the way
she defiled her gullible sister. She could think less of other people's opinions. She is the
kind of girl I always dream I could be but never got the guts to. My favorite scene with
Arya was when she chased a cat through the castle then overheard a secret conversation
between plotters. Her adventurous spirit always gets her into a mess, but that's what
made her scenes so exciting.


I would recommend this book to any lovers of boiling politics and any one who has
watched the TV series. Especially since we have more time during the quarantine, I
would definitely recommend reading the book first before watching the show. However,
there were violence, torture, and explicit chapters in the books that are not suitable for
younger teens. I recommend this series to 16+ teens, but a mature teenager at 14-15
could handle these books on a case-by-case basis.
Check out A Song of Fire and Ice from the Newport Beach Public Library.
Return to full list >>