Love and Gelato by Jenna Evans Welch
Review by Kate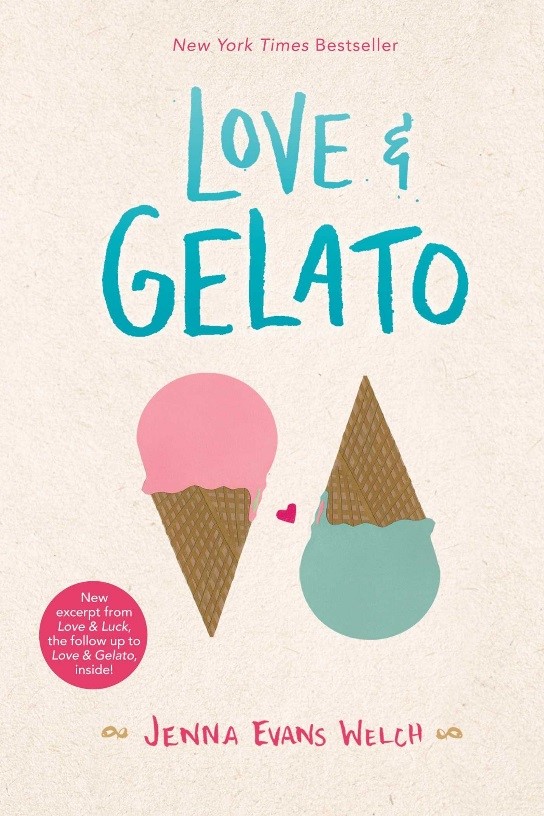 The day Lina's mom found out she had cancer, she began telling her daughter stories about her time as a student in Florence, and a man named Howard she met there. Now Lina's mom has passed on, and Lina is fulfilling her mother's dying wish by going to Florence to meet the dad she never knew she had. All Lina wants to do is go back home, until she is given a journal that her mom kept during her time in Florence. Together with her new neighbor, the charming Ren, Lina connects with her mom in unexpected ways. But as Lina discovers her mother's past, she also digs up secrets that will test everything she knew to be true.
One of my favorite things about Love and Gelato is its setting. Lina spends her summer in idyllic Tuscany. Lina's new home with Howard is set just outside of Florence, making it easy for Lina to explore the city. Whether it be midday gelato outings with Howard, or late night clubbing with her new Italian friends, Lina enjoys Florence and all it has to offer. Frequently in the story Lina and Ren visit places her mother wrote about in her journal, such as Ponte Vecchio and the Duomo. It is because of where she is, the setting of the book, that Lina is able to connect with her mom on a deeper level. Lina also spends time in the rolling hills of Tuscany, often running up them in the morning, and she even meets Ren on a run.
Lina is a relatable character who made me laugh. She loves food, running, and her mom. Her friendship with Addie helped her get through the worst of what she faced. With her mom gone, Lina is often sad, but with help from the journal and those around her, Lina is able to learn to appreciate life and to love without her mom in her life.
One consistent theme in this story is family. Lina learns that her family is who she chooses. Although it is revealed that Howard is not Lina's biological father, he becomes her dad because he loves her. Addie and Lina's new Italian friends also become her family, filling up a void left by her mom's passing. Family is important in Lina's life, and she learns just how much by reading her mother's journal and living with Howard.
Although I really liked this book, there were a few things that confused me. I didn't understand why Lina's mom would send her to the country where her unstable biological father lived without informing her daughter about him. If Lina had been aware of Matteo, she could have avoided him and the possibly dangerous situation. Another thing that confused me was when Lina didn't know what gelato was, as she lived in Seattle, where gelato is not uncommon.
Love and Gelato is a fun read that makes you want to travel to Italy. I loved reading about Lina's adventures in Florence and the new friends she made along the way. The conclusion to the story is heartwarming, and Ren and Lina's relationship is sweet. I would recommend this to anyone looking for a light summertime book.
Checkout Love & Gelato from the Newport Beach Public Library.
Return to full list >>