QB1 by Mike Lupica
Review by Samar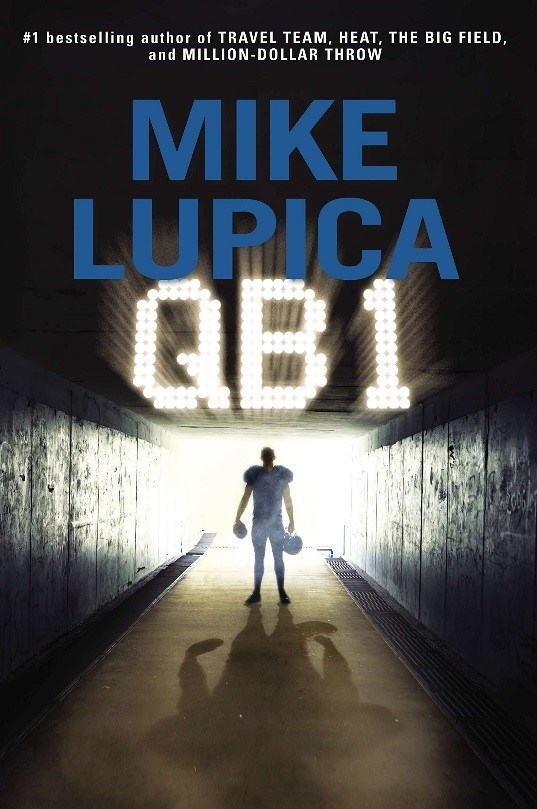 Quarterback. For those who are familiar with football, quarterback is the most important and arguably difficult position in the sport. The job of the quarterback isn't just to throw the ball, it is to be a leader and make difficult decisions on and off the field. In the book I will be writing about, QB1, by Mike Lupica, the life of a Texas high-school quarterback(Jake Cullen) is told and the hardships he goes through, including being in the shadow of his older brother, are detailed.
The reason I chose to read QB1 is because I play football and love the sport, so I thought reading a book about football would be interesting and easy for me to write about. I have read multiple sports novels in the past, and can confidently say that QB1 is the best one I have read to date. At times, I would even take a break from my busy homework schedule so I could read the book. I felt that this book was a great stress-reliever because most times, people are forced to read and look upon reading as boring, but I feel that if you find a book that you are actually interested in, reading it can take your mind off things that give you stress. Additionally, QB1 is not very long and is pretty easy to read, which is why I highly recommend it to anyone who is a fan of sports
novels or Mike Lupica's work, such as myself.
One character I enjoyed reading about and resonated with was Calvin Morton. Both Calvin and I are receivers, so reading about how he scored touchdowns after making quick and smooth cuts to create separation was especially enjoyable. Also, Calvin is very confident in himself and his abilities and protects his teammates whenever there seems to be an issue, giving him a great personality. One thing I would change about Calvin is how he is a little selfish. By this, I mean that Calvin would go out of his way to tell each one of his quarterbacks that they're job is simply to throw him the ball, and whichever quarterback could do that the best was his favorite. I understand what Calvin meant because he is very talented, but I feel like his point could've come across in a better and kinder way.
A character I did not enjoy reading about was Casey Lindell. Casey is another quarterback for the Granger Cowboys who is competing against Jake Cullen to start on the team. Jake is just a freshman on the varsity football team while Casey is a senior, and has been waiting his turn behind Jake's older brother, Wyatt Cullen. As soon as Jake comes in and outplays Casey and eventually becomes a starter, Casey tries to indirectly get Jake to fight him. Casey also seems to divide the team between the two quarterbacks when he should realize that the team is one, and they should be competing against other teams in the league, not themselves. Additionally, Casey
is over-confident in his ability even though he is very inconsistent. I felt that he should focus on the mistakes he made and improve them to become a better player, rather than brag about the couple good plays he made. Eventually, Casey gets humbled by Jake and learns to share the job with the freshmen, and even learns a couple things from Jake, including how to become a better teammate.
In conclusion, QB1 is the greatest sports novel I have read till date. Even if you are not a sport's fan, I highly recommend this book to anyone looking for a quick and interesting read, maybe even a stress reliever. I would definitely rate this book a 5/5 stars just because the plot was phenomenal and the characters in the book were all unique yet interesting.
Return to full list >>