We Were Liars by E. Lockhart
Review by Kate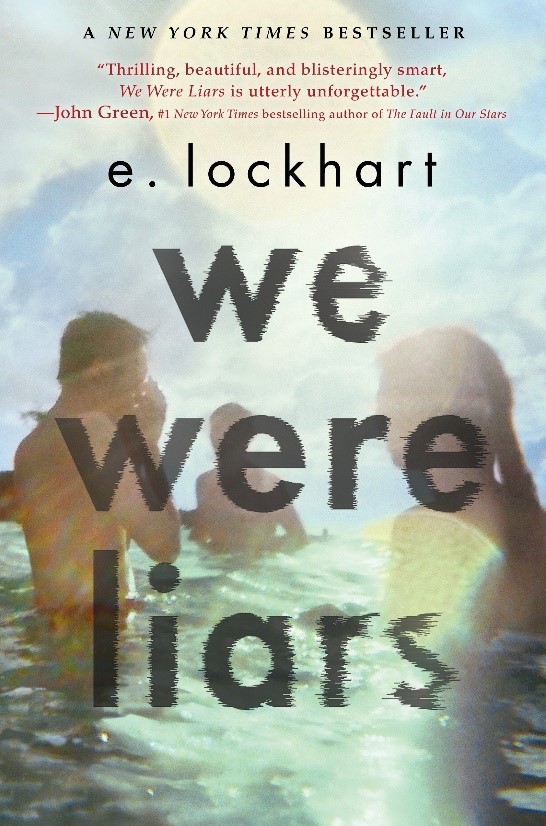 Lies, secrets, love, and friendships are only the beginning in E. Lockhart's We Were Liars. This haunting yet sophisticated novel follows the life and point-of-view of seventeen-year old Cadence (Cady) Sinclaire. Cady and her family are spoiled with privilege. They spend summers on her grandparents' private island and although surrounded by wealth, beaches, and mansions, her childhood is uneventful. During these summers, she spends her days with her cousins, Johnny and Mirren. After eight summers together, life changes for the three Sinclaires. That year Cady's aunt brings her boyfriend and his nephew, Gat, to the family island. Gat is about the same age as Cady and her cousins, and soon after his arrival the four youths call themselves, "The Liars."
Five years later (Year 13), the Liars, no longer children, have grown into teenagers. Over the years, they notice conflict arising from within the family mainly about Cady's grandfather's inheritance. As the Liars become more aware, their anger towards the family grows. Cady finds herself in a hospital with major injuries. All she can remember is waking up on a beach with no recollection of an accident. Following this event, Cady is forced to live with her father in Europe and for two years she does not return to the family's island. She reaches out to the Liars through email, but they never respond. Eventually, when Cady is 17, she returns to the island with her cousins. What had happened to Cady the night of the accident? Why did the Liars never respond to Cady? Secrets unfold, lies are revealed, and the truth comes to light.
We Were Liars is my absolute favorite novel. One of my favorite things about this novel were the constant twists and turns within the story. I never knew what was going to occur next which kept me engaged and eager to continue reading. Another aspect of the novel I enjoyed was my connection with the characters. Obviously since they are fictional characters I am not referring to a "best friend" type of relationship. The author created and grew the characters in a way that made me feel attached to them. Since I cared for the characters greatly, it kept me connected to the evolving storyline. Finally, I savored the combination of mystery, coming of age, and romance. These are my three favorite genres and having all of them in one novel added to the greatness. We Were Liars has so many wonderful features and these were just a few.
Overall, We Were Liars is an extraordinary novel that is worth reading. I strongly recommend this novel to anyone who enjoys reading mystery, coming of age, and/or romance novels. Since each genre is incorporated perfectly, even if you only like one of the listed genres, you will still enjoy the whole novel. We Were Liars will entice you with its passion and mysteriousness. I enjoy recommending books and We Were Liars is my top choice. I hope you enjoy it as much as I did.
Checkout We Were Liars from the Newport Beach Public Library.
Return to full list >>