Making Bombs for Hitler by Marsha Forchuk Skrypuch
Review by Garrett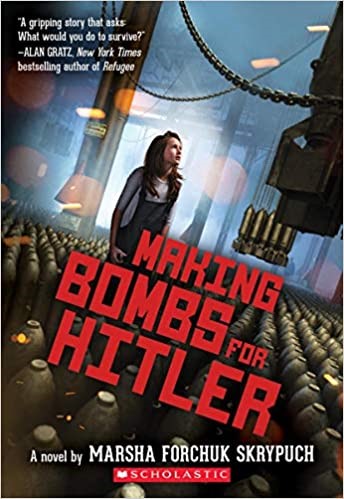 The book, Making Bombs for Hitler, by Marsha Forchuk Skrypuch, is a fictional story about a young Ukranian girl, Lida, who is captured by the Nazis , taken to a work camp, and used as slave labor. Her father is killed by Soviets and her mother is shot by Nazis for helping to hide Jewish neighbors. She and her younger sister, Larissa, are supposed to live with their grandmother. Instead they are captured by the Nazis, even though her family is not Jewish. These terrible events occur just before her 9th birthday.


At the work camp, Lida lies about her age and pretends she is older so that she will be considered more useful and be kept alive. Starving, cold and hungry, Lida considers herself lucky because she is sent to work in the laundry where it is warm. Unfortunately, after a few months, she is forced to work in a factory that makes bombs for the Nazis. Lida does not like helping the Nazis and she is afraid if they win the war she will never be free again. However, she takes comfort in memories of her parents and the friendships with the other children at the camp. She also keeps thinking that some day she will find her little sister again. She decides to sabotage the bombs and make them so they will not explode.


I wanted to read this book after seeing the play, Hanna's Suitcase, at the Laguna Beach Playhouse. I saw the book, Making Bombs for Hitler, at the Scholastic Book Fair at school and wanted to read it. I did not know that so many children and young adults were used as slave labor by the Nazis during WWII. I did not know that the Nazis captured non-Jews, like Lida, and imprisoned them in the work camps. I wanted to read this book because I was curious how World War II would be described from the point of view of a young person.


Overall, I would give Making Bombs for Hitler a 5 out of 10. It was a moderately captivating book to read, but it was very sad and tragic about the suffering of children during WWII. The beginning was a little slow but then it picked up. Several events that were mentioned at the start of the book were not resolved later in the book and it left me wondering what happened.
I cannot begin to image the hardships and tragedy the children had to endure. This was a horrific time in human history. Even after the war was over, people in the camps were still imprisoned for several years. Non-Jews were often taken back to Russia, put in prison punished for being in a Nazi camp.
I would recommend this book to someone who is studying WWII and wants more detailed information about it. It is probably better for a middle school to high school level reader given the gruesome details described in the book. Additionally, there is a companion novel, Stolen Child, by the same author which is about Lida's little sister. It describes Larissa's story and how she survived the war.
Checkout Making Bombs for Hitler from the Newport Beach Public Library
Return to full list >>