A Torch Against the Night by Sabaa Tahir
Review by Christina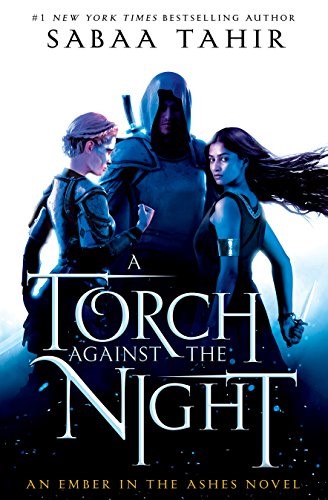 Under the Martial Empire, defiance is met with death. With their superior weaponry, the Martials enslaved the Scholars, subjecting them to lifelong pain and misery. Books are burned, and the secrets to the Empire's weaponry guarded. Those who do not vow their blood and bodies to the Emperor risk the execution of their loved ones and the destruction of all they hold dear.
Set in this brutal, high-fantasy world, Sabaa Tahir's An Ember in the Ashes told the story of Laia, a slave fighting for her family, and Elias, a young soldier fighting for his freedom. Now, in the second book, A Torch Against the Night , Elias and Laia are running for their lives.
After the events of the Fourth Trial, Martial soldiers hunt the two fugitives as they flee the city of Serra and undertake a perilous journey through the heart of the Empire. Laia is determined to break into Kauf—the Empire's most secure and dangerous prison—to save her brother, who knows the secrets of the Empire's secret weaponry and is the key to the Scholars' survival. And Elias is determined to help Laia succeed, even if it means giving up his last chance at freedom. But dark forces, human and otherworldly, work against Laia and Elias. The pair must fight every step of the way to outsmart their enemies: the bloodthirsty Emperor Marcus, the merciless Commandant, the sadistic Warden of Kauf, and, most heartbreaking of all, Helene—Elias's former friend and the Empire's newest Blood Shrike.
I rate this book a 10/10. Most stories' plotlines are predictable enough for me to visualize what's going to happen, but I did not predict what A Torch Against the Night had in store. Woven within the plot was a twist that now makes so much sense but I had not expected. I finished this book in one sitting, and my mouth was left hanging when I finished.
In this second book, Tahir focuses a lot more on Helene, Elias's former best friend, who had been ordered to hunt down Elias when he betrayed the Empire. Helene has to make a choice between love and duty, before she and her family face the Empire's wrath. She has lived her whole life under the idea of serving the Empire, but when the Empire she has been told to love begins to destroy everything she holds dear, Helene is forced to reconsider her loyalties.
Another character I found interesting was Keenan, Laia's second potential love interest. Compared to Elias, Keenan understands Laia more and has similar interests and experiences to Laia. They share their love of kites and sweet tea, and Keenan always seems to understand her. However, Keenan tends to repress Laia's decisions, and often questions her choices in order to keep her safe.
I would recommend the An Ember in the Ashes series to other fantasy fiction readers who enjoy their books with a tinge of romance. It's fast and action-packed, a perfect book that gets your blood boiling for the adventure that is to come.
Checkout A Torch Against the Night from the Newport Beach Public Library
Return to full list >>