The Captive Kingdom by Jennifer A. Nielsen
Review by Hargun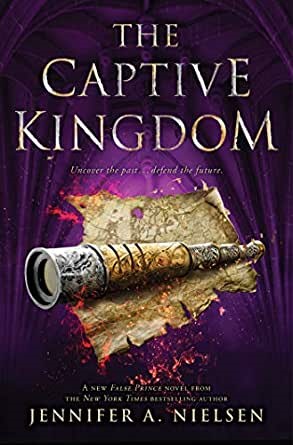 The Captive Kingdom by Jennifer A. Nielsen takes place in a peaceful Carthya, where an orphan by the name Sage or Jaron leads as the Ascendant King with his fiance Imogen beside him. However the peace he fought for so long is not destined to last. On a routine sea voyage, Jaron's ship is brutally attacked, and he is taken hostage. The mysterious captors and their leader Jane Strick, accuse Jaron of unthinkable acts. They are also in possession of some shocking items including the crown and sword that belonged to Jaron's older brother, Darius that unearths a past Jaron thought he left behind for good.


This book is the fourth book of the Ascendance series and so to understand this book you need to know about the three books which came before it. These books are The False Prince which is a best-seller, The Runaway King, and The Shadow Throne.


The False Prince is about a brazen 15-year-old orphan living in the imaginary kingdom of Carthya becomes embroiled in a treasonous power-play to install a false prince on the vacant throne. For years, Sage has survived by lying and stealing in Mrs. Turbeldy's Orphanage for Disadvantaged Boys. When scheming Bevin Connor removes him, Sage assumes he will serve Connor, but he quickly discovers he's one of four orphan boys chosen by Connor for a more dangerous game. Connor plans to secretly transform them into gentlemen and select one to impersonate Prince Jaron, who is missing and presumed dead. Carthya's current king, queen and crown prince have been murdered, and war could erupt at any moment. When the regents meet in two weeks, Connor plans to produce long-lost "Prince Jaron," who will rule as his pawn. Competition becomes fierce as the boys realize the one chosen to play Jaron will be the only survivor. Sage's disdain, defiance and reckless arrogance mark him for failure, but his boldness, instinct and innate decency indicate there's more than meets the eye.


The Runaway King is about Jaren barely a month into his reign and he faces rival regents, threats of invasion from neighboring Avenia, a betrothal to a complete stranger and a power-hungry captain of the Carthyan guard who longs to replace him. When he's brutally attacked in the castle gardens, Jaron finds he's in a perilous predicament. He must surrender himself to the destructive Avenian pirates within 10 days or they and their ally, King Vargan of Avenia, will destroy Carthya to get him. Rather than comply, Jaron eschews his few trusted friends and disappears from Carthya, intent on infiltrating the pirates, settling a debt with their conniving leader Devlin and converting enemies into allies. Assuming his former identity as orphan thief Sage, Jaron covertly enters Avenia alone, where he's eventually captured, injured and seemingly doomed.


The Shadow Throne is about how Jaron, irascible, incorrigible king of Carthya, faces the loss of his kingdom, his friends and his life. Jaron learns that King Vargan of Avenia and allies from Gelyn and Mendenwal have invaded Carthya and captured Jaron's friend Imogen. Determined to save Imogen, Jaron attempts a rescue and fails, leaving him a prisoner and Imogen presumed dead. As he tries to cope with Imogen's death, captive Jaron discovers how much he loved her. Relying on the skills of lying, stealing and deceiving he honed as a child, Jaron outwits his captors and returns to Carthya to rally his outnumbered troops. Resolved to save Carthya, Jaron devises a series of improbable, dangerous and ingenious plans designed to surprise his enemies. Jaron confesses friendship and love have greater power to wound him than villains, plots and enemies. In the end, friendship and love win out, as Jaron and his loyal friends confront their foes to determine Carthya's future in a harrowing conclusion.


Hopefully this information gave you a little understanding of Jaren's adventures, but once again this is just a quick overview and you should definitely read the Ascendance Trilogy for yourself. Now going back to The Captive Kingdom, Jaron faces lots of challenges and obstacles, especially ones that try to tear his relationship with Imogen apart. I would rate this book a ⅘ stars because although it is a really good book, it is a bit lengthy at 370 pages. It portrays themes such as never giving up and always having hope which I think everyone could use a little bit of positivity and hope in this rough year. All in all I highly recommend reading this book and the three other books in the Ascendance series.
Checkout the Captive Kingdom from the Newport Beach Public Library.
Return to full list >>