The Bean Trees by Barbara Kingsolver
Review by Yoojin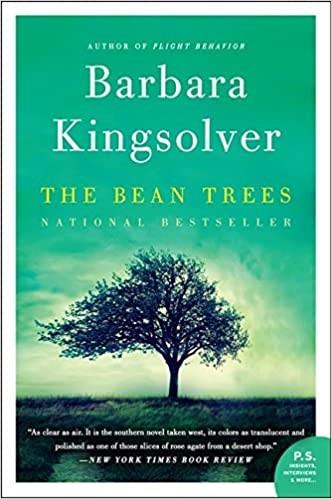 In the novel The Bean Trees, author Barbara Kingsolver shows the power of community and the essential nature of intimate human bonds to overcome individual challenges – all within the small setting of Tucson, Arizona. Despite the varying backgrounds and societal positions of the characters, a connection forms amongst them and their individual hardships. Such interactions revolve around a confident young woman named Taylor who decides that she must leave her dreary hometown in Kentucky and drive across America to search for opportunities. A girl who stands out from the female stereotype of her time, from high school girls her age who are either single mothers or controlled by their husbands, she is raised to become an independent woman who can fend for herself. However, when Taylor leaves with her 1955 Volkswagen, she isn't so confident anymore when she suddenly finds herself with an abandoned Native American baby girl in her car in the unfamiliar setting of Tucson, Arizona. Though burdened with the unexpected responsibilities of a mother, Taylor eventually learns that the baby's past, present, and future depend on her, and that she must do everything she can to provide the baby with a safe environment.
Taylor receives help from the characters she meets in Tucson to figure out her responsibilities and to realize that reality is a much harsher world than the bubble in Kentucky that she is familiar with. Mattie, an older and much respected woman who runs a tire shop in Tucson, initially greets Taylor with kindness and motherly support. However, as Taylor gets to know her better, she realizes that Mattie is involved in a much more significant movement, hidden behind the innocent cover of the tire shop. Meanwhile, Taylor also encounters Lou Ann, another lonely single mother abandoned by her husband – who becomes Taylor's best friend. Turtle is the abandoned Native American baby girl who suffered a traumatic experience during the first few years of her life. With the addition of more characters, including a blind woman and her racist friend and two educated couples from Guatemala, Kingsolver builds a connection between each of the characters; each characters' interactions with the rest of the community of people in Tucson allow them to help the others overcome their challenges while pushing forward from their own hardships as well.
Taylor immediately draws readers in with her personality and spirit, and she takes us on a journey through Tucson, Arizona and the nature of human society through her encounter with the reality of her world and adulthood. As Taylor's self-esteem comes and goes and as she hits rock-bottom and rises back up, Kingsolver unfolds the experience of a woman who learns of the unfairness and skewed condition of human society. The characters' experiences and their relationships along with Kingsolver's thematic idea throughout the novel can be applied to society even now, considering the large political, economic, and social gaps in the modern American (and global) society. Therefore, I rate this book an 8/10 and recommend it to readers of all ages, especially young adults.
Checkout The Bean Tree from the Newport Beach Public Library.
Return to full list >>