Queen's Gambit by Walter Tevis
Review by Christina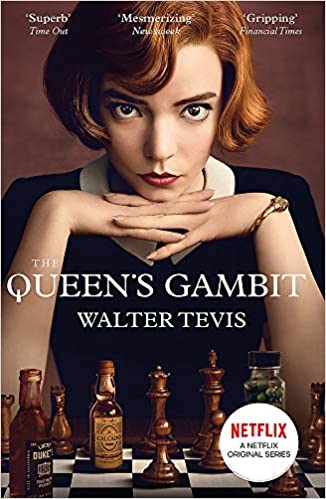 Beth Harmon lost her parents when she was nine. She was sent to the Methuen Home for Girls, where she remained as she waited for adoption. She was a bright student; she was brilliant in arithmetic. So the teacher would often send her down to the basement to clean blackboard erasers during class. And that's where it all started.
Down in the basement, Beth met Mr. Shaibel, a 50-year old janitor studying a position on his chessboard. Enthralled by the game, she gawked as Mr. Shaibel moved the pieces across the 64 black and white squares. Immediately, she knew she wanted to learn how to play.
I love Queen's Gambit. No. Love isn't a strong enough adjective. I'm passionate about this book. I started playing chess when I was in third grade, the same time Beth began her chess career in Mr. Shaibel's basement. Beth was a genius, playing on her outstanding gut and intuition. When she was 16, she had become the US co-Champion; on the other hand, as a 16-year old, I play chess casually online with friends. Still, as a fellow female chess player, I find myself resonating immensely with Beth's journey to become the world champion. Beth's finesse in chess is all I ever wanted. I instilled all my hopes and dreams of becoming a chess master as a young child into Beth's story. I find myself rooting for her in every chess match, cheering for her victories, and fuming for her defeats.
Creativity and psychosis often go hand in hand. Or, for that matter, genius and madness.
Beth was not without flaws. Her extraordinary talent in chess was accompanied by her addiction to drugs and alcohol. Since she had been fed tranquilizers in her orphanage, she had become addicted to the little green pills. At night, whenever she couldn't sleep, she would take a few pills. It had helped her fall asleep at night without the comfort of her mother. At 16, she also developed an addiction to alcohol. She would drink for days at a time, moping in dizziness. Yes, she was a genius; but her brain waned to her addiction. She needed help.
I watched the Netflix adaptation of Queen's Gambit before reading the book. I loved both. I found that many parts of the TV show kept true to the book. There were a few minor changes, but for the most part, the sequence of events matched. If you don't have time to read the book, watch the show.
For chess enthusiasts, this book is a must-read. The thrilling tournaments Beth attends and the mind-boggling opponents she faces is enough to fill any chess player with fantastical wonder. I would also recommend Queen's Gambit to those who enjoy a beautiful coming-of-age novel. As a girl playing a male-dominated game, Beth encounters difficulties she must learn to overcome.
Checkout The Queen's Gambit from the Newport Beach Public Library.
Return to full list >>