The Everything Store by Brad Stone
Review by Jensen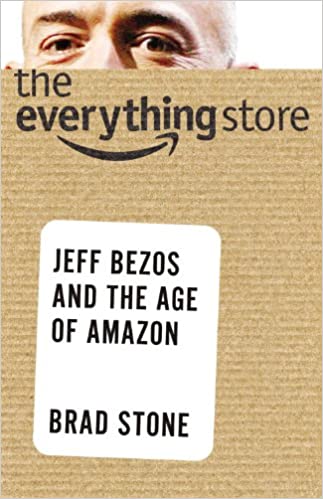 "A well-reported and compelling narrative," is how Walter Isaacson, the author of Steve Jobs, considered to be one of the most renown and accurate accounts of the late CEO, describes The Everything Store, written by Brad Stone, a senior-executive of global technology of Bloomberg News. This thorough reveal of Jeff Bezos' journey to building one of the most influential companies the world has ever seen with sales of $280.5 billion in 2019 alone. If you are interested in Jeff Bezos, Amazon, entrepreneurship, and the tiny tidbits of Amazon's ride to global domination, The Everything Store is a read that covers all of these subjects.
Amazon has experienced it all even from day one: from the exuberant highs to bottomless lows, and to the highs again. With his unrelenting determination and his formidable approach as a CEO Bezos is always looking for ways to innovate new ideas to bring the company that "blows all other rivers away" to the top.
Stone collects most of the novel's information from former Amazon employees, executives, Bezos' family and friends, but surprisingly, not even Bezos himself. In fact, while The Everything Store covers Amazon's journey, Stone delves deep into Bezos' early childhood living with his stepfather and mother, and the story behind Jeff's paternal father being a unicyclist in a traveling circus who was forced to vacate the future CEO's family when he was just four years old.
In 1986, Jeff graduated from Princeton University and took his talents to Wall Street, working at D.E Shaw, a computer-driven hedge fund. During his last days of working at D.E. Shaw, Bezos created his "regret-minimization framework," where he describes his life saying, "When I'm 80, am I going to regret leaving Wall Street? No. Will I regret missing the beginning of the Internet? Yes." Following his philosophy, Amazon was born and the entire world would soon recognize Jeff Bezos as a household name.
Bezos is viewed as an overwhelming, demanding human being who can be an employee's worst nightmare or an inspiration to many. Throughout the novel, Stone lists the special vocabulary within Amazon that employees use to explain Bezos' actions. For example, in the event he is sounding off on someone, this would be known as a "nutter." Stone recalls Amazon's culture as "notoriously confrontational," all roads lead to Bezos. "Jeff Bots" are top executives recruited by Bezos to help implement his ideas, not your traditional way of hiring in the corporate culture.
Even during the process of building Amazon into one of the world's most dominant companies, Bezos explores his other passions, his side hobbies. Blue Origin, Bezos' self-exploration company, has been growing rapidly ever since it was founded by its creator in 2008. Bezos even makes an entire living for himself investing in the early days of the tech startup, Google.
Amazon's journey, however, did have its fair share of bumps in the road. From auctions, which Ebay dominated at the time to venture capital, consuming businesses to add their products into Amazon, it seemed to many that the company was not profitable to grow and expand. Despite its many critics, Bezos is still determined to grow Amazon to prove his haters wrong.
Bezos transformed the company into a legit technology company, not just a retailer. He created Amazon Web Services, which according to Stone, brought in $2.2 billion into the company.
Jeff Bezos is not your typical CEO. He is an unconventional leader filled with overwhelming determination. Like his close comparison, Steve Jobs, he is not a person many people would want to work for. Amazon's success story is nowhere near perfect, from its $107 per share in the first dot com boom to its plumenting $6 per share time period, Jeff Bezos wills the entire company back towards glory and triumph. It's unfortunate that Brad Stone never got to sit down with Bezos and include what the CEO's actual thoughts were, but Stone's excellent report of the company's timeline is crafted with an overflowing amount of small details that make The Everything Store a must read.
Checkout The Everything Store from the Newport Beach Public Library.
Return to full list >>