Everything Everything by Nicola Yoon
Review by Kyra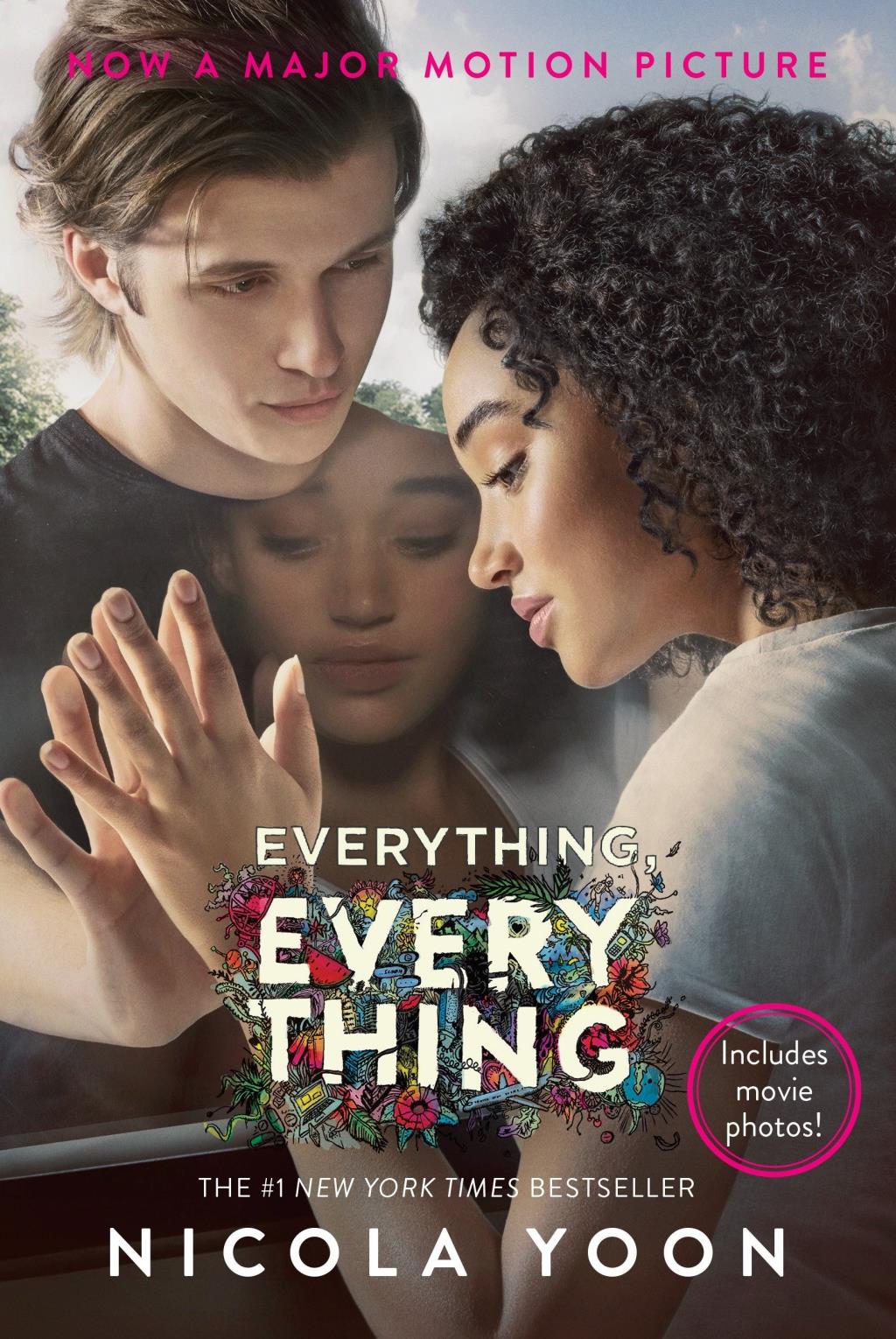 Everything Everything Everything, Everything details the story of Madeline, an 18 year old girl who was diagnosed with SCIDs disease.
SCIDs disease is a rare and severe immunity disease. In short, she cannot go outside, or come into contact with any non-sterilized people or objects, and she lives in a very closed off world.
Because of this, Madeline lives with her mother in a specially designed, germ-free home that has many purification and sanitation measures. Madeline's mother is a doctor, and Madeline is also assigned a nurse, Carla, whom she is very close with.
Life is "normal" for Madeline, in the sense that she doesn't remember what it was like before she was diagnosed. Her schoolwork is online, everything and everyone that she comes into contact with must go through rigorous sanitation, and she is not allowed to leave the house. Her long hours are spent with homework, books, and game nights with her mother. Her life is very bare, and she has minimal experiences with life and "living."
Madeline is lively, quirky, and imaginative, often daydreaming about the opportunities that she could have if she were allowed to leave her home. Everything seems exciting to her, from the beach and the feel of the ocean, to the surroundings that she can see from her own window. The story starts to speed up when a boy named Olly moves in with his family in the home next to her's. He is unlike anyone she had ever seen, entertaining, enthusiastic, and alive. He comes to meet her, only to be turned away by Madeline's mother who is overly cautious about her daughter. Madeline is the only person left in her mother's world, ever since Madeline's brother and father passed away. Carla, Madeline's nurse, decides to help her in a huge and risky way. She lets Olly come to visit Madeline. Madeline and Olly become friends, and they exchange contact information. The life that she had been living cannot satisfy the idea that she might have been missing out. How could she go back to that life when there was more to see?
Madeline finds herself wanting more then the life she had been living. Olly makes her want to break rules, be herself and experience everything that she had been missing out on.
Without spoiling the ending, or the main plot, I will say that I enjoyed this book. It had a beautiful cover, interesting characters, and was well written. I loved how it brought up challenging points that portrayed lessons about life, desperation, forgiveness, happiness, and the adventures that we, as readers, can make for ourselves. It wasn't as "dark" or "depressing" as many other YA fiction books, and even though it had some mildly heavy subject matter, I enjoyed how positive the protagonist was.
For the most part, I enjoyed Nicola Yoon's style of writing. It had a very standard YA contemporary romance feel to it and was very easy to read. In my personal opinion, the side characters could have had added dimension to prevent the plot from falling flat. I strongly dislike the ending, it felt like it undid every previous lesson learned. It was unsatisfactory and disappointing, not in terms of writing, but in terms of the "plot twist." It tried too hard to be a feel-good novel which annoyed me, and made me put down the book with a bad taste in my mouth. If the ending had been written differently, it would be a solidly written and interesting YA romance novel with a well structured premise. Because of the ending, I wouldn't recommend it. All in all, I would give "Everything, Everything" a rating of 3/10 stars.
SPOILERS: At the ending of the book, it was revealed that her mother had been lying to her (about her condition) for almost two decades in an attempt to protect her daughter from the world. Carla, the nurse, had suspected/seen signs of this, but not said anything or done any further research. Another problem that I had with this book is that Madeline, (believing that she had SCIDs disease) is willing to run away, board a plane and fly to a different state, without any protection, which would most likely have killed her. (If she had truly had SCIDs.) She also puts a huge weight of worry on her mother and the people that cared about her. It seemed selfish to me. The mother's resolution at the end of the book was her going to see a therapist. But in reality, the mother, who is a doctor, lied to her daughter for 18 years and diagnosed her with a life threatening immune disease because of a severe mental illness. In my opinion, that would cause serious retributions with the mother's career. All of these factors annoyed me and took away from the credibility of the book. The plot twist/happy ending was unrealistic, fake, and it subtracted from the positive messages that it had tried to create at the beginning.
Checkout Everything, Everything from the Newport Beach Public Library.
Return to full list >>