Artemis Fowl by Eoin Colfer
Review by Hargun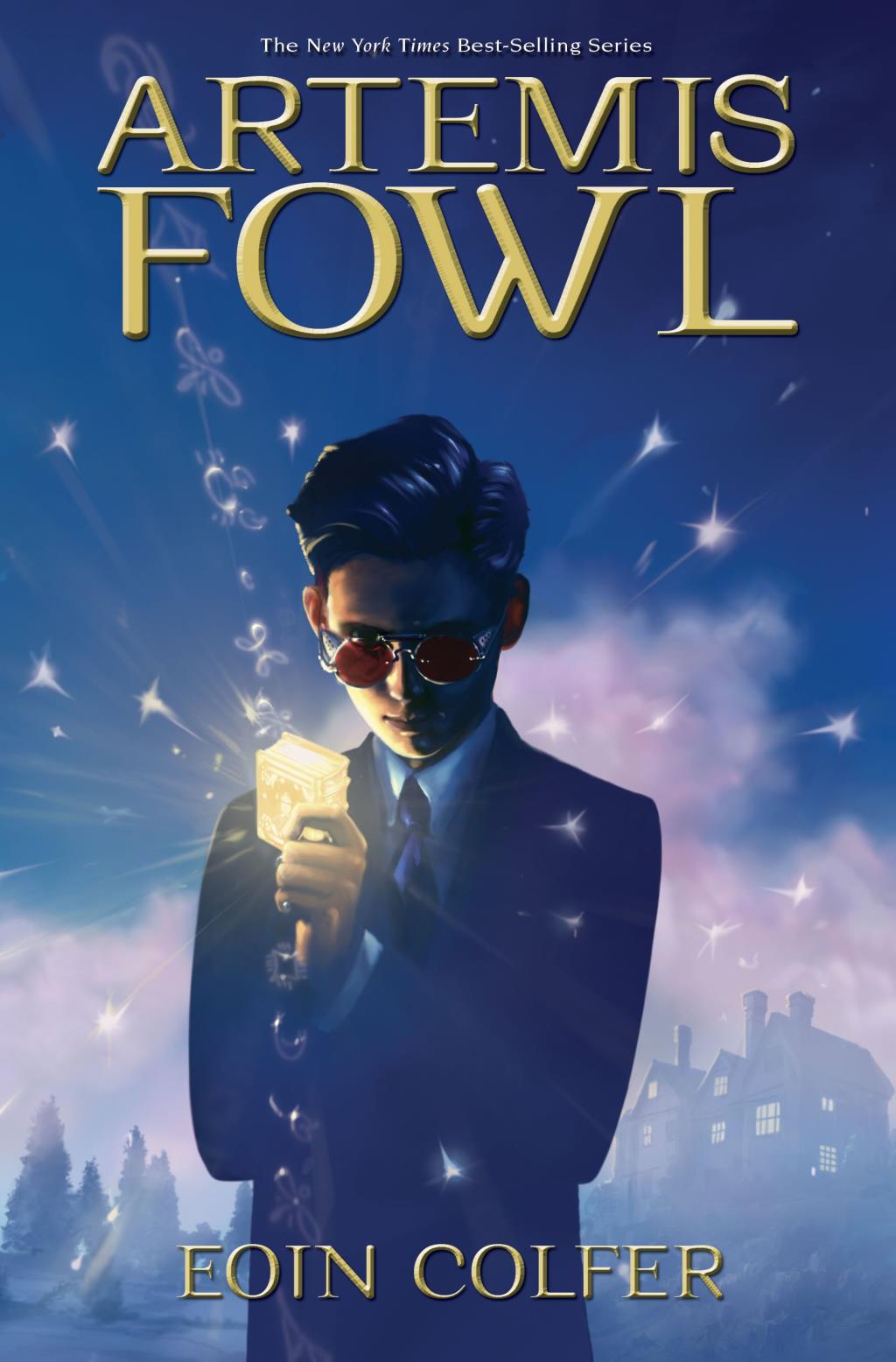 Artemis Fowl by Eoin Colfer in my opinion is a thrilling and action filled book for teenagers with the interest. It is the first of the eight book series, is very attention grabbing, and you won't want to stop reading it till the end. The book is about a twelve-year-old boy who is born in a rich family, is really clever, and is a mastermind criminal. All the wrong deeds he commits though are for one purpose, and that is to save his hospitalized mother who is on the verge of death. With no father, only a butler, named Butler, he is the only one who can help him with anything he needs.
Artemis needs a special type of medicine to save his mother, which he could only obtain from a fairy, and he is willing to surpass any obstacles to receive it. Artemis and Butler go to a secret underground place where a witch lives. The witch, though, is always drunk and never willing to do anything without a reward. Artemis makes Butler torture the witch to try to get the secret formula of the medicine. The witch says that she will grant his command but on a condition to save her from rotting to death. Artemis agrees and gives her a special pill that will flush out all the alcohol she consumed over the past century. He tells Butler that they should leave the room because a hundred years worth of alcohol getting flushed out of a body is a horrific scene. After a few minutes, they come back into the room and suddenly see a beautiful fairy in the air glowing like the sun. The fairy was happy that the pill worked and gave Artemis the special book that contains the formula to the medicine. There was one twist to the book though; it was written in a different, ancient language that Artemis would have to convert to a language he knew. He wasn't allowed to have the book since it was the property and only the property of a fairy. Butler then gives Artemis a camera where he takes the pictures of the pages that contain the formula and goes back to the Fowl Manor to see what the pattern is. After several hours of no rest, Artemis finds out what language the book was written in and converts all the text to English. He decides to relieve himself with some rest and then go back to work.
Artemis was missing some key ingredients that he could only get from a special facility called the "LEPrecon'' unit, or just LEP. Artemis and Butler then decide to break into the facility and kidnap their captain just to be safe. Artemis, as a smart kid, decides to kidnap the captain of LEP because then the guards will take precautions and not do anything that might risk the captain's life. The captain's name is Holly, and she was being really stubborn about telling Artemis and Butler where the special ingredient is. Artemis decides to bring in some of the guards and makes Butler torture them and make Holly see her people die before her. Artemis gets Holly to her breaking point and Butler goes to get the special ingredient. They chain Holly up and once they leave the premises, then she gives them the command to unchain her. Before Artemis left though, he had told Holly he did this to save his mother and Holly forgave him for his deeds. Artemis goes back to the Fowl Manor and gets all the ingredients together, puts them all in one pot, and starts to stir all the ingredients to make the medicine. Once he is done making the medicine, something super weird happens to him and everything around him. Suddenly, the darkness in the Fowl Manor was gone and Artemis' mother, Angeline Fowl, came to him. She wishes him a Merry Christmas and starts to make him a special meal for the holiday. Artemis didn't act like anything was wrong because the only thing in his mind was that his mother was back and he didn't want anything to change that. He started crying and his mother asked him why, but he didn't say anything but "Merry Christmas." She asks Butler to get him a few things for the special meal and Butler says "yes ma'am" to her like this was an everyday thing and his mother wasn't literally just really ill. Angeline starts treating Artemis like a little kid, playing with him and calling him "baby", but Artemis had no problem with it. He was happy to have his mother back, but his mother was so confused why the Fowl Manor was in such bad condition. The house was dusty and the doors were disfigured from some sides. Artemis makes something up like they are getting new furniture and the hollers were making a mess getting the old furniture out. From there on, Artemis wasn't that criminal mastermind that he used to be, he was his mother's sweet, little, twelve-year-old.
In my opinion, Artemis Fowl is one of the best thrilling and action filled teen read books out there. I highly recommend it to teenagers with the interest of action and thrillers. Eoin Colfer did a very good job in grabbing the reader's attention and the book was very well written. If you do read Artemis Fowl and want to continue on with the series, then continue on with the other seven books if you wish. Therefore, I give Artemis Fowl a rating of 5/5 stars.
Checkout Artemis Fowl from the Newport Beach Public Library.
Return to full list >>