Open: An Autobiography by Andre Agassi
Review by Jensen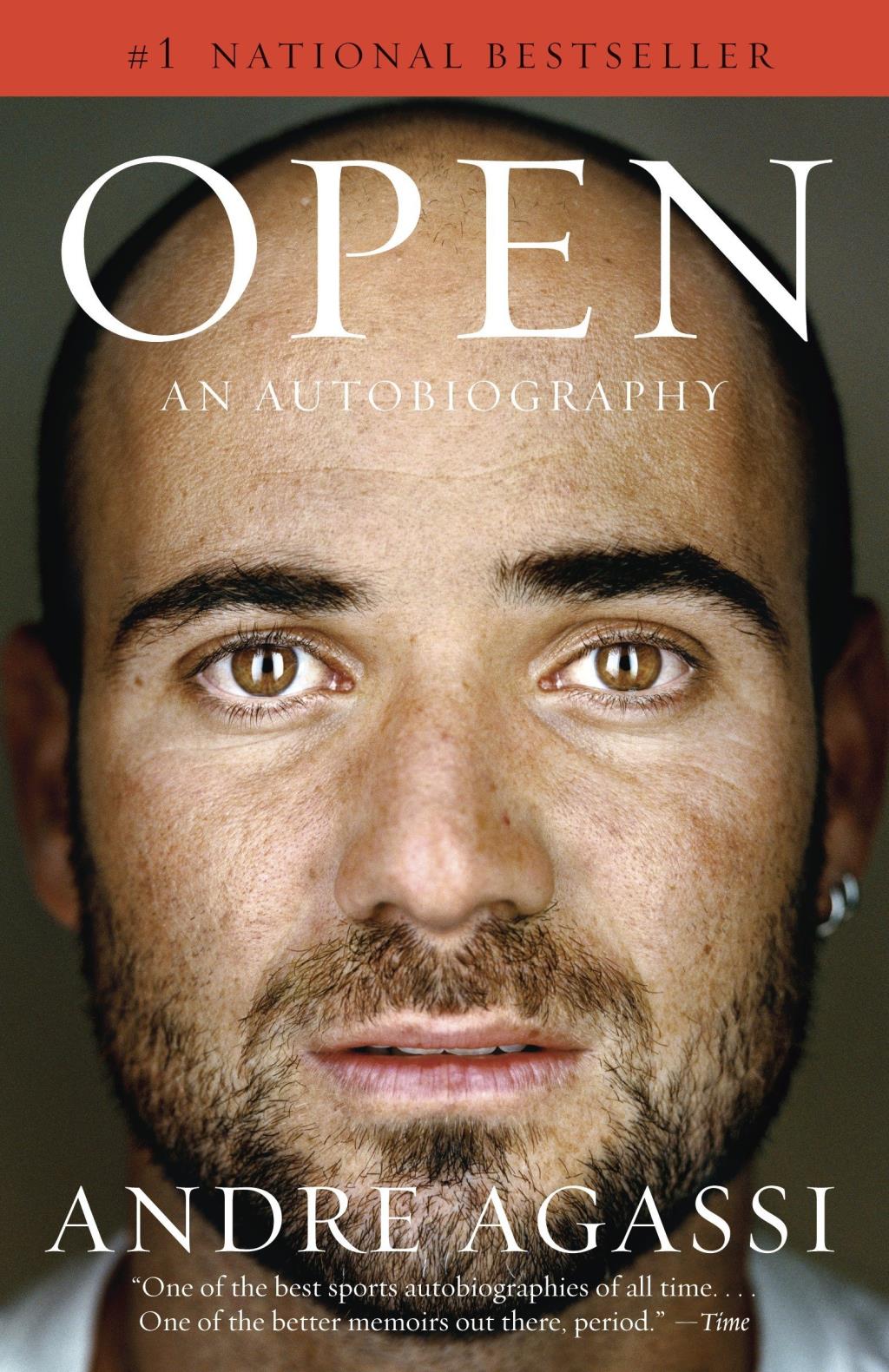 While some may doubt the idea, he was one of the best players to pick up a racket, there is absolutely no one that doubts Andre Agassi's profound ability to make himself seen by others. Starting out from Las Vegas, Nevada, and skyrocketing towards the pro tour wearing Nike-sponsored faded denim shorts, "hot lava" or lime green bicycle tights, neon shirts, headbands, and of course his renown hairpiece. During his run, many tennis fans were distracted by his firm, consistent play: the effortless strokes, arguably one of the best service return games tennis has ever seen, and his raw agility.
Ironically, Open is one of the first of its kind where a superstar athlete conveys their possession of an intense inner hatred for the game of tennis. Agassi said, "I play tennis for a living even though I hate tennis, hate it with a dark and secret passion and always have." A recurring motif throughout the book is how tennis was a game Agassi mastered that acted as a prison, which he was trying to escape for thirty years of his life. The first chamber being Andre's childhood backyard in Vegas, a tennis court built by his immigrant father, Mike Agassi. Mike, an Armenian who was a former boxer that grew up in Iran, was destined to make his son number one overall in the world. He willed his three other children to excruciating training, oftentimes pulling his kids out of school and taking away whatever free time they had. Until his fourth and final child, Andre, stepped onto the court for the first time, Mike realized who the chosen one in the family was to be and the one he would help foster to becoming one of tennis' greatest champions it's ever seen.
After many years groomed by his father in Vegas, Andre was shipped off to the Bollettieri Academy, a Florida based tennis camp run by Nick Bolletieri, a lackluster entrepreneur paid four figures by parents. At the camp, students were force fed numerous balls during drills, lessons on the mental aspect of the game, and nights spent in inadequate dorm rooms. "The constant pressure, the cutthroat competition, the total lack of adult supervision — it slowly turns us into animals," Agassi mentions. Agassi often spent his time in the tennis academy drinking, fighting other kids, receiving body piercing, and rocking a two-inch pinky nail and colored "fire-engine" red.
Focused on a sport that was physically and mentally demanding, Andre still managed to find peace when it was not time to play the game, most often with his team, his family, consisting of Gil Reyes, Andre's personal trainer and Brad Gilbert, his coach for the most parts of his career. Both men helped reform Agassi's mind and body to become the all-time great player he was and eventually, help him overcome his archnemesis, Pete Sampras, another one of tennis' great players that had countless memorable battles with Andre. On paper it seems Pete is the clear better player with fourteen grand slam victories (seven of them at Wimbledon) and possesses a twenty to fourteen record against Agassi in singles matches. On the other note, Agassi has a unique skill set that allows him to dominate on any surface (clay, hard, grass). He is one of the eight players as of today to capture all four grand slam titles (Wimbledon, U.S. Open, Roland Garros, Australian Open).
When Open was first announced to the world, many people were ecstatic to hear the ins and outs of Andre's relationship with his first wife, Brooke Shields, an actress older than Agassi by five years. Their relationship ultimately lasted only two years and Open illustrates the wide variety of factors that hinted at their doomed marriage from the start. A renown athlete paired with a young, ambitious actress yearning to be a star is not the ideal match to start off with. The celebrity couple had nothing in common whatsoever. Shields, a Princeton graduate who earned a degree in French literature, was not in favor of the game of tennis and Andre's close friends. On Shields' opportunity in her big break, Friends, Agassi charged off the production after a wave of jealousy flooded his mind. Oftentimes, they took leaves to rich, tropical islands where Andre could never fully connect with Brooke, especially when the two needed it the most.
Even before Andre met Brooke Shields, he always kept a watchful eye for one of the greatest female tennis champions, Steffi Graf. Showing a tremendous amount of persistence, Agassi finally won over Graff shortly after his divorce with Brooke in 1999. He learned that she indeed grew up with a father as tough and focused on tennis like Mike Agassi and how she also "hated" the game with the same passion as Andre did. The couple would not follow the same paths as their fathers, so they promised not to build an outdoor tennis court for their children. Instead, Steffi and Andre created a youth center, which later became a charter school in Vegas' poorest and underdeveloped area, The Andre Agassi College Preparatory Academy. Since the construction of this school in 2001 to now, Agassi has helped build over 80 more charter schools across the U.S. and has accompanied many underprivileged children, a wide majority being African Americans with the education they so desperately need. The Andre Agassi Foundation for Education still lives on today attempting to end the U.S. Education System's flaws and give as many kids as possible the ability to learn, an opportunity that Agassi, an eighth-grade dropout, wishes he had.
Open details every detail of Agassi's journey to becoming the successful man he is today. His ride has extremely astonishing high points, but also for what sometimes seems like bottomless lows. At the end of the day, Andre still pushes himself with the help of his team and family to keep fighting. No one has seen such an extraordinary comeback story like Andre Agassi: he dropped from the No.1 overall ranking in 1995 to No.141 a couple years later, until finally he rose back to No.1 in 1999. In the beginning of his career, many would view Agassi as the classic "punk" or "rebel" sporting his acid-washed jeans and his mullet hairpiece that did not have what it takes to be a winner, but then undergoes a transformation that makes him tennis' all-time superstars. Andre's story is truly a unique adventure that highlights the renowned tennis player's struggle with the game he loathes the most, but it is also an adventure of self-discovery and purpose. By the end of his career, Andre has never felt so much motivation within him to make the world and his community a better place, "My greatest connection on a tennis court was impacting people for a few hours—giving them a break from their lives, giving them an experience, hopefully a memory for a lifetime." I guess there was more than just one comeback in Andre Agassi's life.
Checkout Open: An Autobiography from the Newport Beach Public Library.
Return to full list >>