The Boy in the Striped Pajamas by John Boyne
Review by Dania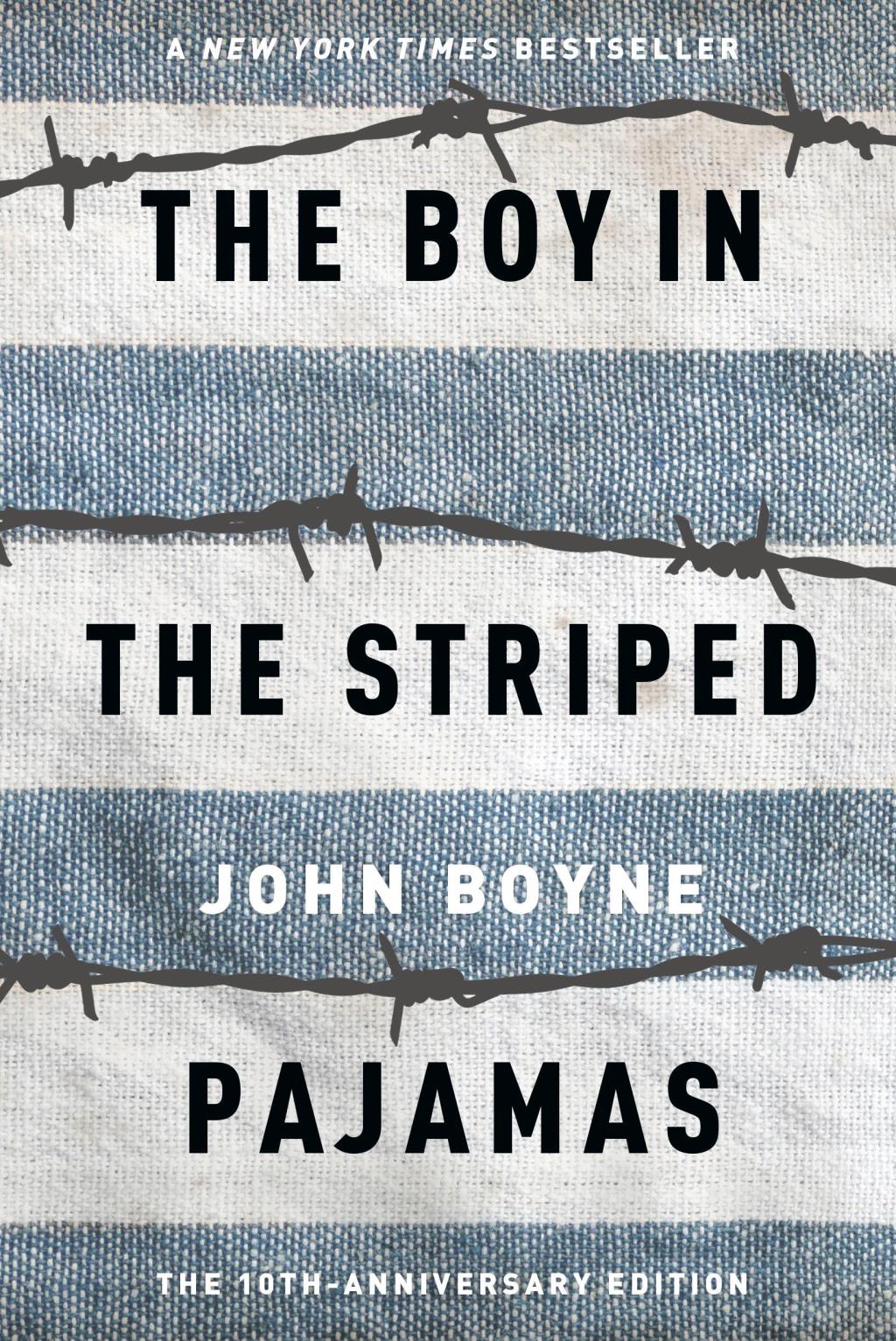 The Boy in the Striped Pajamas is truly an inspiring and heartfelt novel that I will never forget. The author, John Boyne, did a masterful job of writing the story with such vivid details that makes the reader empathize with the characters and the plot. It is a remarkable, yet simply told story that connects two exceptionally contradictory themes; the enormity of the Holocaust, and the innocence of a child.
The story unfolds the day that Bruno, a 9-year-old German boy learns that he and his family are moving from Berlin to Auschwitz (or as Bruno calls it, "Out-With"), where his father will serve as the commandment. Bruno was devastated at the notion of leaving their grand mansion, grandparents, city life, and not to mention his three best friends for life. He soon discovers that life at Auschwitz is lonely and desolate, which was completely different from his life back in Berlin. On the day that they arrive in Auschwitz, Bruno finds that there is a huge colony full of men of all ages, countless huts, and soldiers on the other side of a fence just behind their new home. Bruno didn't understand what the place really was, or what was happening on the other side of the fence because he had been sheltered from hearing about such places. He couldn't comprehend why such a massive fence was so close to their home, or why countless soldiers were stationed around the fence. Nor was he able to understand who or why these people were wearing matching striped pajamas. However, Bruno was an optimistic and curious child and decided to go "exploring" to truly find out who these people were. Though he later learns that the fence was meant to separate his family from a group of people called "Jews", he never truly understands why. Bruno lacked any preconceived thoughts about Germans and Jews and was unaware of what made them so different. It was because of his childlike innocence, open-mindedness, and lack of prejudice that Bruno was able to befriend Shmuel, a Jewish boy who lived on the other side of the fence. Bruno's loneliness changed when he met Shmuel, and the two boys started to forge a powerful and meaningful friendship. Although Bruno and Shmuel shared so much in common, Shmuel lived in the deadly concentration camp, which proved to have devastating consequences for their friendship.
I have read countless books on the Holocaust, but this was a novel that stood out to me. The author shows the reader the horrors of the Holocaust through two young boys who are virtual mirror images of each other. It is quite tragic to think that Shmuel could be exactly where Bruno was, only if he wasn't Jewish. Bruno was German, blissfully ignorant, and healthy, while Shmuel was Polish, hopeless, starved, and full of fear. "The Boy in the Striped Pajamas", while quite sad, is definitely a story worth reading. The bond created between Bruno and Shmuel demonstrates the heartbreak that Jews must have felt when their friends and family were mercilessly killed right in front of their eyes. Although the novel covers a grisly subject, "The Boy in the Striped Pajamas" is a touching story of two boys who find security, comfort, and bravery through their extraordinary friendship.
After reading this novel several times, I have come to understand the true theme of the novel: the gift of friendship. Even though Bruno and Shmuel belonged to different worlds, one in a Jewish concentration camp, and the other as the son of a Nazi commander, innocence and love always outweigh political boundaries. The two boys showed us the true meaning of friendship despite their different ethnical backgrounds.
I'd rate "The Boy in the Striped Pajamas" a 9/10, just because I wasn't quite fond of the ending. However, I'd highly recommend this novel to older youth who enjoy learning about the Holocaust, World War II, or Historical Fiction novels!
Checkout The Boy in the Striped Pajamas from the Newport Beach Public Library.
Return to full list >>