Wonder by R.J. Palacio
Review by Dania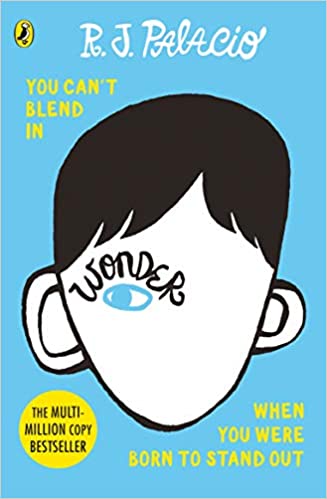 Wonder is an extraordinary and beautifully written story of kindness, courage, and being yourself.
August Pullman (aka Auggie) is a 10-year-old boy who is going to begin school for the very first time. Auggie has been homeschooled by his mother all his life because he was born with severe facial abnormalities, which required 27 surgeries. Despite the countless surgeries, Auggie still lives with facial disfigurement. Now, he will be starting 5th grade at Beecher Preparatory School.
Like any student joining a new school, Auggie faces mixed reactions from his fellow students. Some are welcoming, while others - not so much. Auggie's arrival at school doesn't just test himself, but also everyone around him. Though Auggie is trying to find his place in the world, the world must also find a way to make room for him as well.
Told from multiple points of view, Wonder provides accounts of Auggie's experiences throughout his first year at school. The author, R.J Palacio did an exceptional job of creating characters that are so relatable and lovable - especially Auggie. Each of the chapters was written with such thought and honesty! Auggie's sister's chapters were some of my favorites, mostly because of how well the author was able to portray her feelings and emotions with raw honesty. Her chapters were probably one of the most truthful POVs - the way she struggled with guilt over feeling jealous of Auggie, since she truly loved her brother, but also desired her parents' attention.
Other than his sister's POV, I think that Auggie's chapters were the ones that touched my heart the most. He was well aware of the way that people viewed him, yet nothing can make anyone immune to cruel words. Auggie's story was heartbreaking but inspiring considering the way he was able to stand back up and act as if nothing was wrong with him. It was impossible for me not to love Auggie and his resilience.
Most importantly, Wonder allows the reader to reflect on their behavior and views. The novel highlights the cruelty of people's actions and behaviors, which mostly come from ignorance and downright fear. I have never read a story that can touch my heart so deeply and prompts the reader to reflect on the impacts of their words and behavior. Reading Wonder guides you to be a better, and most importantly, a more considerate person. I think that this novel has a wonderful lesson in empathy and compassion for anyone who reads it!
Wonder's message is so touching. It's that no matter what you look like, your true colors will always shine through. It doesn't matter what other people think of you - as long as those close to your heart love you for who you are. That's all that matters.
Wonder is one of my favorite books that it was hard for me to get across how absolutely wonderful it was! The messages, themes, characters, and storyline were enough for me to never want to stop reading. I'd definitely rate Wonder a 5/5 (if I could give more, I would!)
I'd highly recommend Wonder to everyone, young and old!
"When given the choice between being right or being kind choose kind."
Return to full list >>