I want to eat your Pancreas by Yoru Sumino
Review by Mehra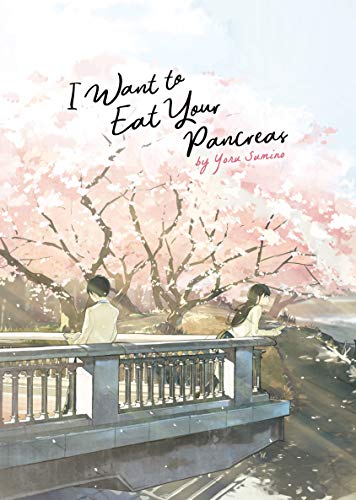 Never judge a book by its cover. One should certainly recall that idiom when it comes to Yoru Sumino's coming-of-age novel I Want to Eat Your Pancreas. No, the book is not about cannibals or creepy organ-eating monsters. Rather, this hidden gem is sweet and deeply moving, and is sure to take the reader on an unforgettable emotional journey.
Like the hit YA novel The Fault in Our Stars, I Want to Eat Your Pancreas deals with a terminal illness and a budding romance between two high schoolers. The novel begins with the introduction of an unnamed boy, a lonely introvert who spends his free time reading in his school's library. One day, he finds a diary in the library and learns that it belongs to his popular, cheerful, very much extroverted classmate Sakura. More importantly, he discovers that she has a pancreatic illness and only has a few months left to live. Sakura makes him promise that he won't tell her family or anyone else, as she wants to live a normal high school life for as long as she can. The boy reluctantly agrees. Little does he know that their secret will bring them closer together. Eventually, Sakura and the boy cross off everything on Sakura's bucket list, from something as simple as dining at a yakiniku restaurant to a very crazy game of truth or dare. Even when she is admitted into the hospital, Sakura still lives life to the fullest, with the boy by her side. It is when she sneaks out of the hospital to watch fireworks with the boy that he finally realizes the impact he has had on her life. This is when the novel reveals his real name, Haruki. Haruki desperately wants Sakura to live, and slowly realizes that she is more than just a friend. Haruki wants to "eat her pancreas."
Sumino also brilliantly answers the question: what is life? Through the twists and turns the novel presents, it is clear that life is a precious yet finite journey. However, this definition varies from person to person. For Sakura, life is "the relationships [she] has with people." But life is also the choices you make. You can focus on the stark, negative details of life, or you can focus on the beautiful, happy moments present in each moment. Sakura's optimistic outlook on life and acceptance of death allowed her to value each and every day she spent alive. Ironically, it was Haruki who needed Sakura the most, as she taught him to appreciate the beautiful world around him.
Polar opposites. Secret hotel getaways. Ex-boyfriends. A shocking ending NO ONE expected. I Want to Eat Your Pancreas truly encompasses everything a reader could possibly want from a novel. For young adult readers craving a book that will leave them with a greater appreciation for life, or who just want to read a novel with a rather unusual title but beautiful story, I Want to Eat Your Pancreas is a perfect choice.
Checkout I Want to Eat Your Pancreas from the Newport Beach Public Library.
Return to full list >>