A Long Walk to Water by Linda Sue Park
Review by Dania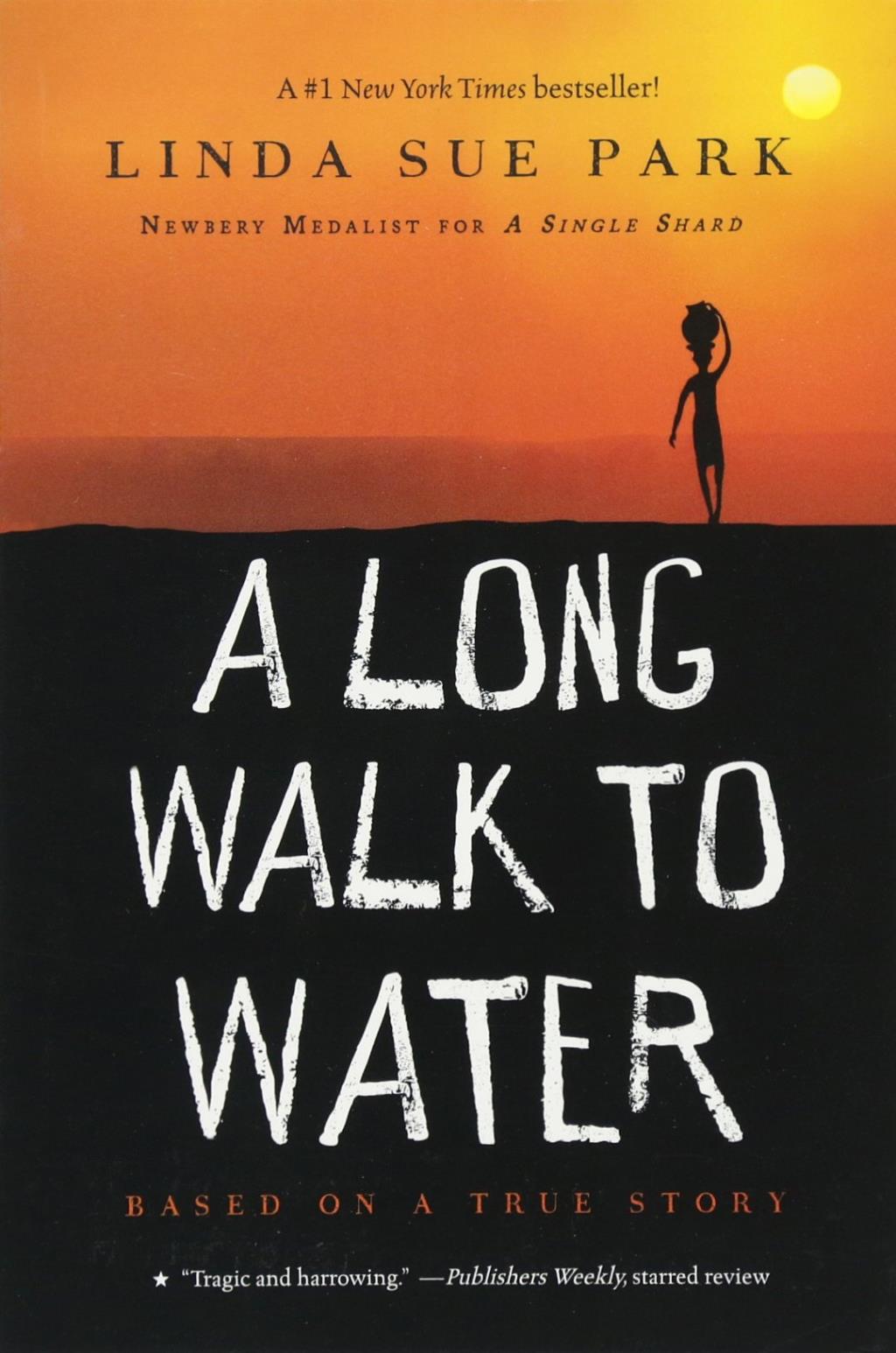 Taken from a real experience, an intertwining story of two children in different periods, living in different tribes, and coming together to make a difference in the world, Linda Sue Park's A Long Walk to Water is a book based on the true story of the Lost Boys of Sudan and their endless struggles to survive.
This is the true story of Salva, an 11-year-old boy who found very little space in the world where people struggle to survive to what seems like endless conflicts during the Second Sudanese Civil War in 1983. The book also includes a separate narrative about a young girl named Nya, which also takes place in Sudan but in 2008. Throughout the novel, we learn about Salva and Nya's circumstances and countless struggles.
Salva's story is absolutely harrowing. It's just a normal school day when he hears gunshots meaning that the war has finally arrived in his village and is forced to run away into the wilderness.
Salva has no idea where he is going; he only knows that he must get to safety and as far away from his home as possible. He travels with different groups of people who are just as scared and surrounded by danger as he is. There isn't any food or water, he has to face dangerous wild animals, the unbearable heat, and armed soldiers.
It is impossible to imagine the fear that Salva must have faced as a child amongst strangers while separated from his family. Years pass by as he keeps traveling into the unknown, being forced into several refugee camps, and wondering what the next day will bring. Along the course of his journey, Salva witnesses deaths and finds himself asking if he will ever see his family again.
Nya's journey begins in 2008 and is just as heartbreaking as Salva's story. Nya and her family struggle to find freshwater - forcing Nya to walk several hours in the scorching heat to locate water every single day. Her family has gotten sick from contaminated water, and unlike other kids her age who go to school, Nya spends her days fetching water. But one day, that all changes: she comes home to find something good is finally happening in her village - a water well.
Along with the two stories, you also learn about Sudan, the different tribes, and their people's constant struggle for clean water. The novel really makes you reflect on all the things we take for granted. I don't think I ever thought much about a glass of water - but now, I don't think I'll ever look at water the same way.
This novel was one of those stories that will change your life forever. Salva's sheer will to survive was extremely inspirational and emotional. Through Salva, the author was able to teach a meaningful lesson: by taking one step at a time and solving one problem at a time, you can conquer seemingly insurmountable obstacles.
A Long Walk to Water is frightening and hard to read at times, considering that the author took into account every detail of Salva's journey. However, the book is extremely well written and hard to put down! The author did an amazing job of weaving the two narratives together to make an unforgettable and life-changing novel.
I'd definitely rate A Long Walk to Water 10/10. It is truly a novel that I would recommend to anyone - young and old.
"One step at a time, one day at a time, just today, just this day to get through." - Linda Sue Park, A Long Walk to Water
Return to full list >>