Pandemonium by Lauren Oliver
Review by Alexandra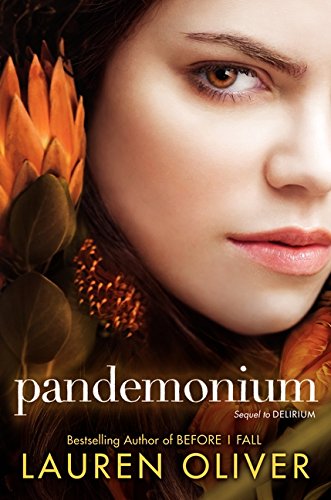 Pandemonium, Lauren Oliver's stunning sequel to Delirium, continues the story of a futuristic society that attempts to cure the people of love by forcing them to endure a medical procedure that prevents them from feeling. Lena, the protagonist, escapes from the fence, leaves Alex behind, and runs for her life through the Wilds. She is rescued by a group of people living in a homestead in the Wilds, and they feed her and nurse her back to health. As the narrative switches between Lena's experiences in the Wilds with the homestead, and her undercover mission in New York City, the chapters are alternately titled "Now" and "Then."
In the "Now" thread, Lena has begun attending a new high school. Throughout these sections there are brief flashbacks of what Lena's life used to be like. She used to believe what all of the others believed, that the DFA (Deliria Free America) was an organization that protected people and that everyone must have the procedure for society to go on. In the Now, Lena is working covertly with Raven and Tack, two of her friends in the resistance. She goes to a rally where Julian Fineman, the DFA organizer's son, is present. He is kidnapped and it is her job to stay with him no matter what.
In the "Then" thread, Lena escapes from her neighborhood with a boy named Alex. Alex is killed as they cross the border and Lena wakes up in the Wilds being taken care of by Invalids. Raven, Blu, and Lu nurse her back to health. She lives with them for some time on the Homestead. Life on the Homestead is difficult and rudimentary. Food is scarce and the people are vigilantly watchful against attacks.
The style of Pandemonium is similar but not exactly the same as in Delirium. If you enjoyed the first-person present tense in Delirium, with everything seen through Lena, the lead protagonist's eyes, then Pandemonium will not disappoint. If you enjoyed the descriptive flow from the author of Lena's sight, smell, touch, inner feelings, then, again you will not be disappointed and you will easily live the story through Lena's eyes, her feelings, and her emotions.
This riveting novel delivers and grows on its predecessor, au contraire other sequels that flounder and fall flat. This book makes you think twice about how we behave as individuals and shows the strength and resilience of humanity regardless of what is thrown at them. Where Delirium explores Lena's growth and love, Pandemonium is about the darker emotions like hate and revenge all of which are still considered part of "the disease", amor deliria nervosa.
Check out Pandemonium from the Newport Beach Public Library.
Return to full list >>