One of Us is Lying by Karen M. McManus
Review by Jaden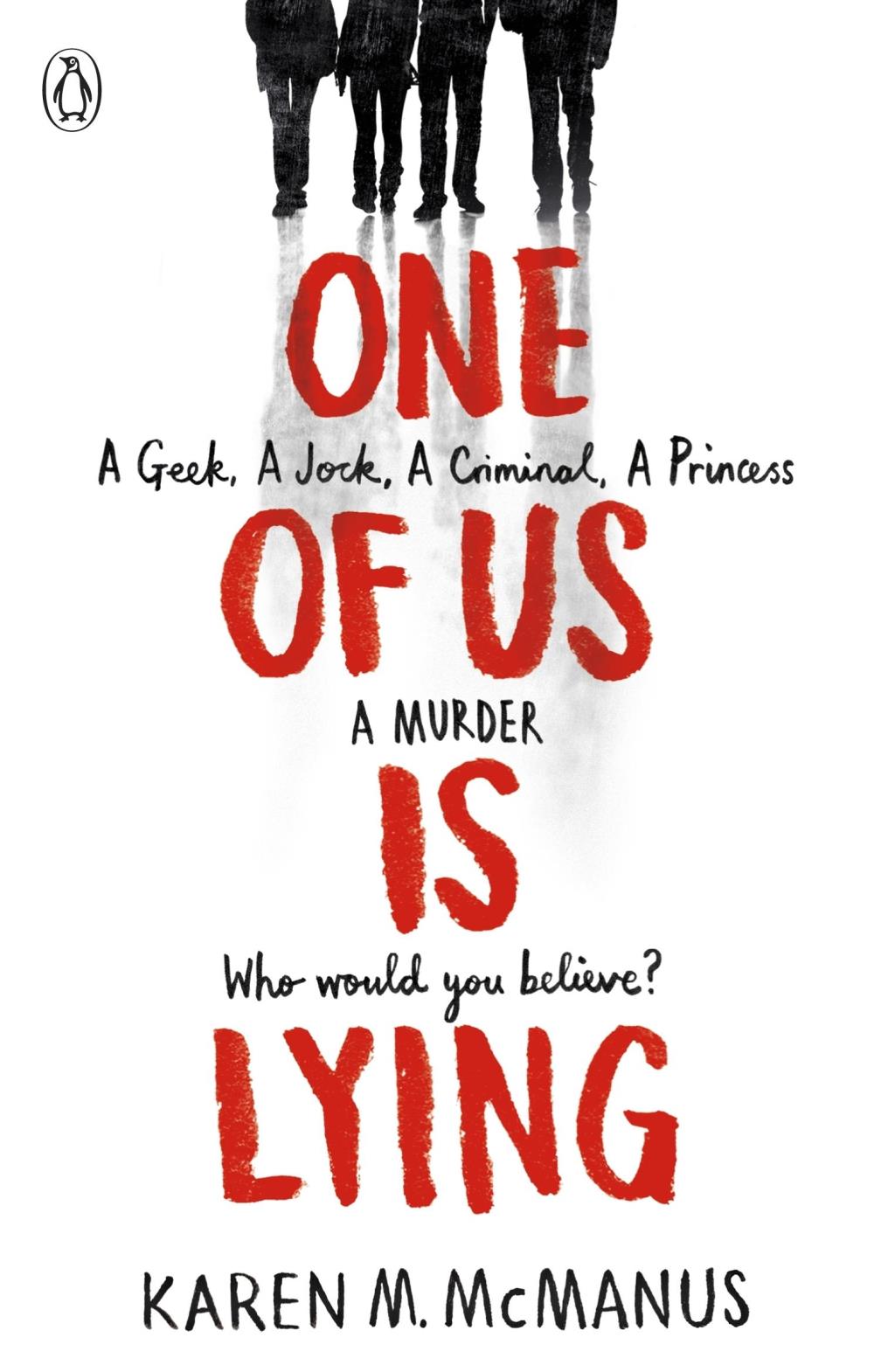 One of Us is Lying is a murder mystery centered around four stereotypical high school students: the brains, the beauty, the jock, and the slacker. The four of them find themselves stuck in detention together one fateful afternoon. When another student in detention drops dead, the police begin to wonder if the death was a simple coincidence or a carefully calculated murder. Bronwyn, the brains, has always planned to go to Yale, but when she becomes a suspect of the murder, her entire life flips upside down. Addy, the beauty, has a seemingly perfect life. A hot boyfriend, lots of friends, and absolutely no original identity. After becoming a suspect, she must figure out who she is and what she wants out of life. Cooper, the jock, is Bayview's golden boy who can do no wrong, that is of course, until he is suspected of murder. And Nate, the notorious slacker and drug dealer, is absolutely everyone's prime suspect despite the fact that he's just a lonely kid who no one is rooting for. The four of them must figure out who the real murderer is and clear their names before their lives and reputations are destroyed. Everyone has a secret and everyone is lying. No one is who they seem to be.
This book was really good. I am not usually a murder mystery person, but I really enjoyed this story. I liked how the book addressed real issues. It demonstrates how you don't really know people around you. No one is what they seem to be and everyone has problems. The brains is funny. The beauty is cool. The jock is sensitive. And the slacker just wants to be loved.
One thing I really liked about this book was how unpredictable the story was. Any time I thought I knew what was happening, I would flip the page and realize I was totally wrong. Every situation is carefully written about and I could see how much thought really went into the creation of this book. The ending shocked me, but after I knew what happened, I realized how many little clues were dropped throughout the book. Its a smart book, and the ending is absolutely tragic.
Another thing I really loved was the character development. The murder case uprooted each character's entire life, and when it did, they all had to figure out what was really important and who in their lives they could actually trust. Specifically, I loved the character development of the "beauty," Addy. She starts the book so lost and insecure, which her relatable and also slightly frustrating. The way her character changes by the end of the book made me love her so much. She ended up becoming my favorite character by the end.
Lastly, I loved how it was as much of a detective story as it was a murder mystery. Each kid stepped up and began fighting to clear their names. Specifically, the character, Bronwyn, used her brilliant brain to connect the dots. I loved reading her thought process. I felt like I could literally see her brain connecting each clue. It was almost like I was solving the case with her. She was incredibly intelligent, but also relatable. I felt like I could relate to her thought process. She was smart enough to dig herself out of a hole, but not too smart that she was un-relatable to the reader. The characters are so well written and extremely relatable.
Definitely read this book. It is a page turner and will have you on your toes the entire time.
Checkout One of Us is Lying at the Newport Beach Public Library.
Return to full list >>