The Journal of Curious Letters by James Dashner
Review by Josie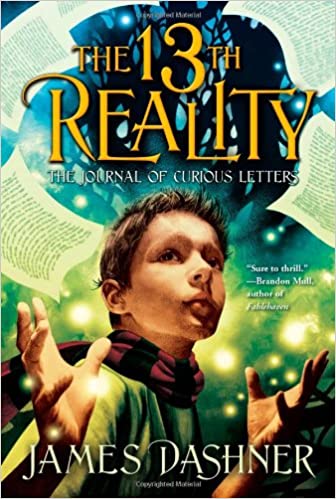 I'm reviewing the first book of the The 13th Reality series, The Journal of Curious Letters by James Dashner.
In the book, a 13-year-old boy, Atticus Higginbottom, aka Tick, gets a mysterious letter from a person with the initials M.G., filled with clues and riddles. The letter warns Tick about bad things that are happening in the world, and how he could save it. Over time, Tick gets 12 more clues, getting progressively more challenging. Along the way, he gets help from his dad Edgar, Mothball and Rutger, the helpers of M.G, and Paul, Sato, and Sofia, other kids who got the same letters. But solving the clues are harder than they look, because many obstacles are in the way, some more dangerous than others. Finally, Tick solves all the clues and finds himself in one of the 12 Realities, a different dimension. He and the other kids must find the most evil person, Mistress Jane, and steal her Barrier Wand, which helps her teleport between Realities. If they don't do it in time, then Jane might create a 13th, evil, reality, and take over the entire universe.
The idea of the story was quite good, and I like how the realities are explained by quantum physics. Tick had a good personality, not doing anything too reckless, and acting like a normal teen, like being jealous and getting bullied. But his birthmark, which Tick is ashamed of, isn't really mentioned, or explained. That created a hole in the story.
Paul, Sato, and Sofia's personalities were evident: Sofia is tough and sarcastic, but nice; Sato is grumpy and antisocial, but a good person; and Paul is energetic and happy-go-lucky, but too optimistic. I didn't like how Sato's past was skipped over, but maybe that would come out in later books in the series. Sofia was meant to be hard as nails, but sometimes it crossed the line between tough love and being a jerk. And Paul was forgettable; he didn't really do anything important.
Mothball and Rutger, M.G. 's helpers, were okay. Mothball has a slight country vibe, but everything about her is forgettable, except for her height. Rutger is short, fat and rude. He kept throwing rocks at Tick's window and insulting people, so I didn't like him very much. Tick's family are also mediocre characters, although I don't understand why his little sister, Kayla, likes burning things so much. Among all the characters, I liked Tick the best, because he has the least character flaws, and is very balanced in personality.
A thing that surprised me in the book is when a spy for M.G. gets killed. Usually, if someone dies in a tween's book, that person would be a parent, or would surprisingly reappear. I was relieved that this book broke the cliche. I also liked how each letter's riddles were written: lots of subtle clues and direct humor.
In summary, I liked the book, although it had some flaws. I would recommend this book for young teens or tweens who like science, fantasy, and problem-solving.
Checkout The Journal of Curious Letters from the Newport Beach Public Library.
Return to full list >>