A World More Bright, The Life of Mary Baker Eddy by Isabel Ferguson and Heather Vogel
Book Review by Garrett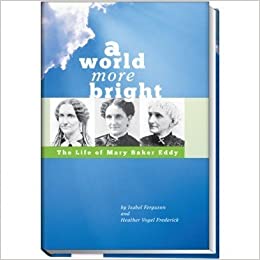 A World More Bright, The Life of Mary Baker Eddy, by Isabel Ferguson and Heather Vogel
Frederick, was published in 2013. It is a historical biography about the remarkable life of Mary
Baker Eddy, the founder of the Christian Science religion. It is written in a way that makes it
interesting to read and it has many illustrations to go with the narrative.


This book begins with Mrs. Eddy's life in Bow, New Hampshire. Her parents were devout
members of the Congregational Church in Bow. Her father placed high priority on prayer and
devotions. Mary had an early aptitude for healing results. Periodically her father, or others on
the farm, would bring her a sick animal. Mary would sing to it and talk to it and it would become
well again. From an early age Mary was frequently ill and had to be educated at home. Her
older brother, Albert, taught her in most subjects when he came home in-between his studies at
Dartmouth College.


As a young woman, Mary Baker married George Washington Glover, moved with her new
husband to the South and eventually gave birth to a son. All the while she was weak and sickly.
Doctors could not help her. She turned to homeopathy, hypnotism, and placebos to find cures
for her aliments. Things did not go well for her. Her husband died. Due to her weak condition,
her son was taken away from her when he was 4 years old. She did not have support from her
family to keep him. She had no money and eventually remarried again to a brutal man just to
survive.


The turning point came when one evening, while walking home, she slipped and fell on the ice.
Her injuries were so severe she was not expected to survive. She asked for her Bible and while
reading it, made a discovery that changed her life. She got up, went downstairs in her house,
and walked in on the death vigil her friends were holding for her.


From that point forward, she dedicated her life to healing people, teaching people how to heal
and eventually starting he own church. She named the religion Christian Science. She wrote
Science & Health with Key to the Scriptures which is considered one of the pastors, along with
the Bible, in her church. Additionally, she founded the Christian Science periodicals including
the Sentinel, Journal, Monitor and der Herold which are all still in print today.


It is remarkable that Mary Baker Eddy overcame the adversities in her life and started a new
religion. Even then things did not go smoothly for her. She was frequently attached in the
papers. There were lawsuits brought against her. She had many trials to overcome, but she
powered through and came out ahead through each of them.


As the authors of this book say it best on the last page in the epilogue in the book; "Mary Baker
Eddy's remarkable life overflowed with accomplishments. Paster Emeritus of her church and,
though her writings, its forever leader, she was also a healer, teacher, author, poet, journalist,
lecturer, editor, publisher, pastor, wife, mother, grandmother, and philanthropist. …she broke
barriers of gender and age, founding a worldwide religion and church, a newspaper, a
publishing company, and a college at a time when women didn't even have the right to vote." (p.
216).


The format of the book makes it engaging to read. There are sidebars with information on the
pages that are a nice touch. This makes it easy to get information quickly. The newspaper
clippings and photos also helped make the book more readable.


This is a good book for teens because the information is stimulating, accessible, compelling,
and not dry. I would give this a 10 our of 10 especially if someone is specifically looking to read
about powerful and accomplished women of history or researching founders of religions. If
someone wants to learn more about Mrs. Eddy's life, they should read Robert Peel's books
which are denser and more scholarly.
Return to full list >>