Did you know?
You can register your email address and have this information and more delivered directly to your inbox. It's easy to create an account and there are a variety of topics to select from to stay informed of what's happening at the City.
Fire Department Annual Report
Community Members,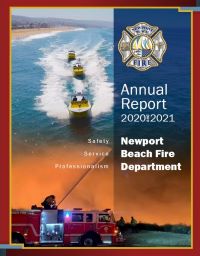 It's with great enthusiasm and pride, that I share the first annual Newport Beach Fire Department Annual Report. The report itself is quite a bit larger than we had originally anticipated, but since it is the first one, we included pertinent organizational and operational content. In an effort to capture the events of both 2020 and 2021, we began putting this document together in the late 2021.
Every Division within the Fire Department is featured with narratives, photos, and statistics that evolved from an internal collaboration. I encourage you to take time to read the annual report and hopefully glean some information about the Fire Department that you may have otherwise not known. I continue to learn every day from our roughly 350 employees from Fire Operation, Emergency Medical Services, Lifeguards Operations, Fire Prevention, and Fire Administration.
I hope you enjoy the report.
Jeff Boyles, Newport Beach Fire Chief
Return to full list >>