Concrete Street Pavement Reconstruction
Welcome to the Concrete Street Pavement Reconstruction project web page! Please check this page periodically for project updates.
The City of Newport Beach Public Works Department is currently in the construction phase for the Concrete Street Pavement Reconstruction project. The project limits include:
Anade Avenue from Bay Avenue to Edgewater Place
Montero Avenue from Bay Avenue to Edgewater Place
Alvarado Place from Bay Avenue to Edgewater Place
6th Street from Balboa Boulevard to Bay Avenue
The construction contractor, Aramexx Construction, will be removing and reconstructing the concrete street pavement and sections of deteriorated concrete sidewalk, curb, gutter, and alley/driveway approaches within the project limits. The contractor will also install new storm drain systems on Anade Avenue, Montero Avenue, and Alvarado Place to improve the street drainage. Additionally, the contractor will construct new landscaped parkways on Anade Avenue and Montero Avenue.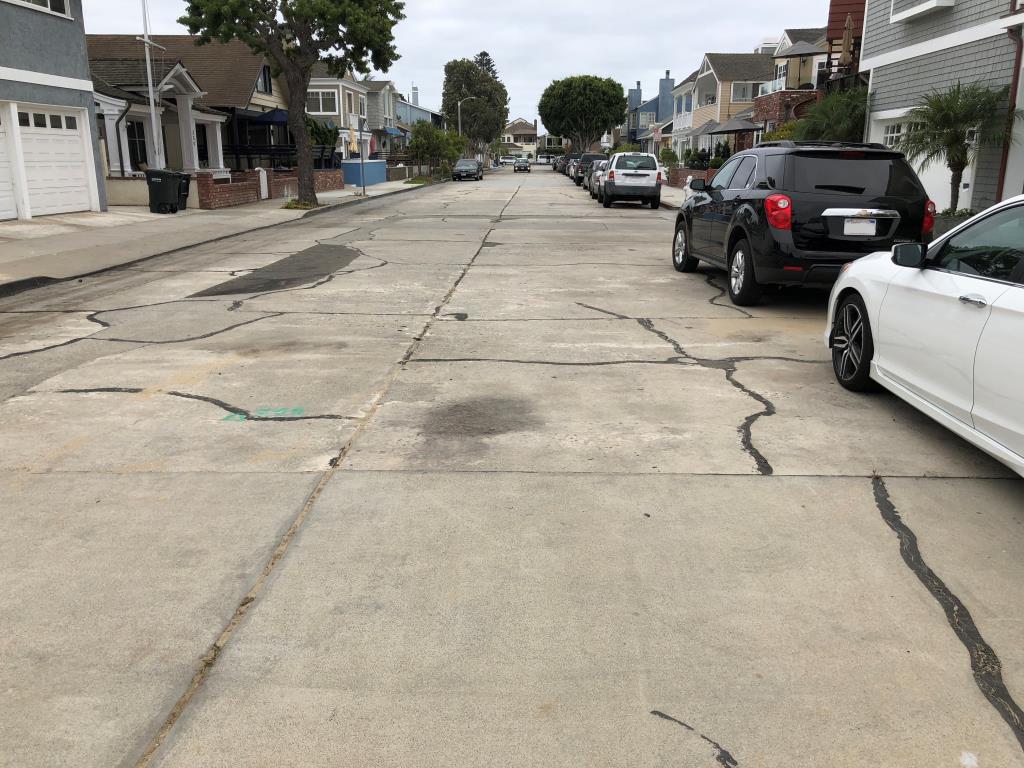 (Montero Avenue - existing street)
Aramexx Construction will begin construction on February 3, 2020. Working hours will be Monday through Friday (excluding holidays) from 7:00 a.m. to 4:30 p.m. Due to high tourist activities during the summer season, and as requested by many of the residents during the community meetings, construction will not be allowed from Memorial Day (May 25, 2020) to Labor Day (September 7, 2020). The contractor will be required to completely demobilize before Memorial Day and remobilize after Labor Day to complete the work. Construction is expected to be completed in 100 working days.
Construction will be phased and will begin on Anade Avenue, followed by Montero Avenue and 6th Street, respectively. Notices will be distributed to adjacent residents 48-hours in advance of starting construction on each street. Work on Alvarado Place will take place after Labor Day, starting on September 8, 2020. Residents on Alvarado Place will be re-notified prior to the start of construction on Alvarado Place.
During construction, the contractor will need to close one street at a time for no more than two consecutive weeks to complete the concrete street pavement and allow adequate concrete curing time. During this period, the street will not be accessible by vehicle and street sweeping on surrounding streets will be suspended to provide additional parking. Bags will be placed over street sweeping signs at locations where street sweeping has been suspended. Each street will be completed and open to vehicular traffic prior to starting the next street. This sequence of construction is intended to minimize inconvenience to the residents. You will be re-notified of the exact dates of street closure as construction progresses. In addition, sections of streets and sidewalks will be closed intermittently to facilitate storm drain and parkway improvements.
Should you have any questions, please feel free to contact me by phone at 949-644-3344 or email at pkharazmi@newportbeachca.gov.