Women in Newport Networking
Annual WiNN Forums
New Date!
The 2018 Women in Networking Forum has been rescheduled to Monday, April 23
The Women in Newport Networking Forum has been rescheduled from Wednesday, April 25 to Monday, April 23 at 5:30 p.m. The date was changed after an unanticipated scheduling conflict arose for the forum's keynote speaker, Orange County Sheriff Sandra Hutchens. Rather than find a new speaker, we felt the best option was to find a new date when Sheriff Hutchens was available to join us. With her vast leadership experience, extensive knowledge of law enforcement, and commitment to public service, she is a thoroughly engaging speaker
and someone you won't want to miss!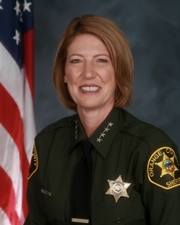 The 2018 WiNN Forum will be held on Monday, April 23, 2018 from 5:30 p.m. to 7 p.m. in the Community Room of the Newport Beach Civic Center. This year's special guest speaker will be Orange County Sheriff Sandra Hutchens.
Attendees can spend time before and after the program networking and learning more about opportunities to serve the community. Representatives from the following City Boards, Commissions and support groups were present to share information and answer questions:
---
2017
The second annual WiNN Forum was held on Thursday, March 16, 2017 in the Community Room of the Newport Beach Civic Center. The special guest speaker was Michelle Steel, Chair of the Orange County Board of Supervisors.
2016
Approximately 200 community members attended the inaugural WiNN forum on February 25, 2016. View photos from the forum.
The City and local, nonprofit organizations (see below for the list of event partners) provided information at the forum about their volunteer groups and needs. There was a brief panel discussion featuring current and former community leaders Marian Bergeson, Roberta "Bobbie" Fesler, Judy Johnson and Dorothy Larson, and participants were able to talk with panelists and other community volunteers, view the forum program and speaker bios.
2016 Women in Newport Networking Partner List
About WiNN
In 2015, Newport Beach City Council Member Diane Dixon and several community leaders developed a forum called Women in Newport Networking (WiNN) to encourage Newport Beach women to engage in, and serve as leaders of, community and civic organizations. The committee has since broadened the focus of WiNN to creating awareness among Newport Beach men and women of opportunities to serve local community, charitable and civic organizations.
The WiNN planning committee is comprised of:
Diane Dixon, Newport Beach City Council Member
Debra Allen, Former Civil Service Board Member
Robyn Grant, Civil Service Board Member
Kathy Harrison, Former Arts Commissioner
Sarah Stapleton, Community Leader
Jill Johnson-Tucker, Chair, Board of Library Trustees
Connect with WiNN
facebook.com/womeninnewportnetworking