Christmas Boat Parade
Join over a million viewers to watch beautifully decorated yachts, boats, kayaks and canoes sail along Newport Harbor in the 109th Newport Beach Christmas Boat Parade, hosted by the Commodores Club of the Newport Beach Chamber of Commerce. The Christmas Boat Parade runs nightly from December 13 to December 17 starting at 6:15 p.m. and ending at 9 p.m.
Since Marina Park as become a popular place to watch the event, the route was changed to pass the park early in the evening at approximately 6:49 p.m. The Marina Park parking lot has paid parking that expires at 6 p.m. No overnight parking is allowed.
Helpful information:
Opening night fireworks show will be off the Newport Pier on Wednesday, December 13 at 6:15 p.m.
Closing night fireworks show will be off the Balboa Pier on Sunday, December 17 at 9 p.m.
Arrive early for best viewing and parking.
Download the parade route map for the public viewing locations, detailed destination times and parking and public restroom locations.
For more information, visit chirstmasboatparade.com.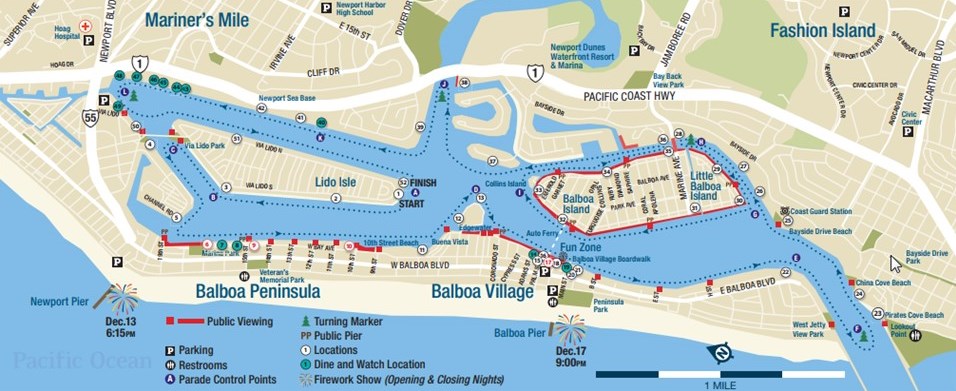 Return to full list >>