Harbor Commission Special Meeting
The Newport Beach Harbor Commission will hold a special meeting on Saturday, November 17, at 8:30 a.m., that will include a boat tour of Newport Harbor. The meeting and tour are open to the public and community members are encouraged to attend. (See below for a link to the agenda.)
The meeting will convene promptly at 8:30 a.m. in the event room on the second floor of the community center at Marina Park. After the Harbor Commission addresses a short business agenda, there will be a brief recess to allow time for the commissioners and interested community members to board one of the Balboa Island Ferries for the harbor tour portion of the meeting.
The purpose of this Special Meeting is to build familiarity with the topics, terminology and geography frequently reviewed by the Harbor Commission, build rapport between the public and the commissioners, and identify additional areas of concern in the harbor. Similar meetings took place in 2014 and 2016.
The tour route will cover approximately 6.7 nautical miles and topics covered along the way will include the current Harbor Commission objectives, City code enforcement efforts, stand up paddleboard safety, Title 17 updates, dredging solutions, and much more. The commissioners will discuss the various waypoints along the route and there will be ample opportunity for public participants to ask questions during the tour.
Coffee, bottled water and light snacks will be available at the meeting. There will NOT be any stops along the tour and there are no facilities on the ferry. Participants should be sure they will be comfortable for the approximately two hours the tour will take. The meeting and tour will take place rain or shine.
The ferry has a capacity limit. As has been the case in the past, passage for the tour portion will be handled on a first-come, first-served basis.
Map of Harbor Tour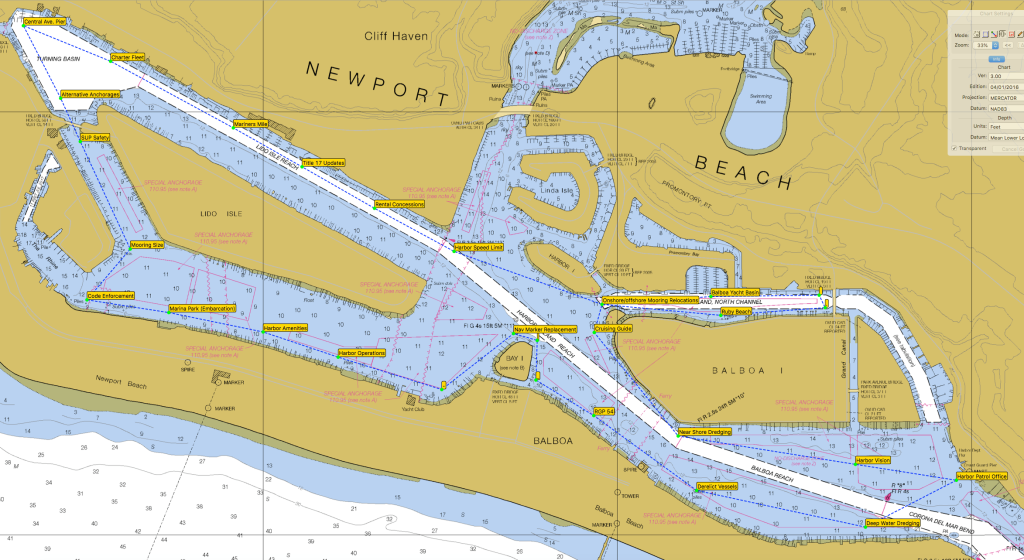 Return to full list >>