Free Compost Giveaway, Paper Shredding and E-Waste Disposal
Free Compost Giveaway, Document Shredding and E-Waste Disposal
Saturday, April 9
8 a.m. to Noon
Newport Beach Corporation Yard
592 Superior Ave.
The entrance to the event will be on Industrial Way via right turn; no left turns will be allowed.
Newport Beach residents are invited to bring documents and household electronic waste for free shredding and disposal. Residency will be verified; please bring identification. Residents can also receive up to two 30-lb. bags of compost while supplies last.
Residents may also receive a free kitchen pail for organics recycling.
Residents can bring up to 10 standard file boxes for shredding.
Acceptable items for shredding include:
Bank and financial statements
Credit card statements or pre-approved credit card offers
Old IRS tax forms, checks or bills
Old credit cards & plastic/paper membership cards
Junk mail, of any size and color
Document can be bound with staples or paper clips
Unfortunately, the shredder cannot accommodate x-rays or larger plastic items such as binders. Material is shredded on site.
Acceptable items for e-waste disposal include:
Computers
Computer monitors
Keyboards
Televisions
Printers
DVD players
Cell phones
Other small electronic devices
No other household hazardous waste will be accepted.
For more information contact CR&R at NewportBeach-Recycles@crrmail.com or call 949-667-4158.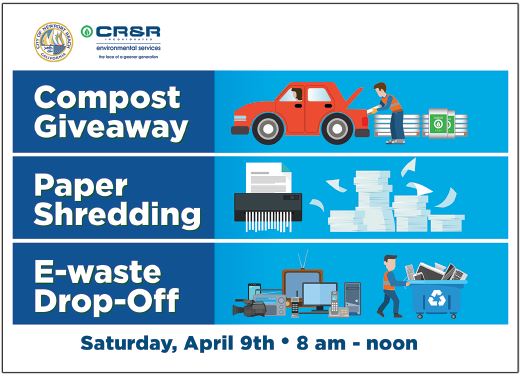 Return to full list >>