Adoption of the First Battalion, First Marines
The City of Newport Beach "adopted" the First Battalion, First Marines (1/1) in December, 2003. This relationship has been manifested in a number of events and activities since that time. Foremost among those have been three "Mess Nights." These formal attire, traditional dinners are hosted by about 300 residents of the City and attended by 150 to 200 members of the Battalion. We anticipate that these events will continue on an (approximately) annual basis, depending on the deployment schedule of the Battalion.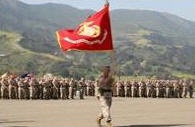 Donations to the Fund are used primarily to assist family members of the Battalion, especially the families of younger enlisted men, with unexpected expenses while their Marines are away on deployment. We are able to provide support for a variety of things, from broken appliances to travel expenses to picnics and parties for the children. We have also provided appropriate condolences and memorials, on behalf of the City, for those lost.

For the residents of this community to express their gratitude and appreciation to those who go forward to defend our Country's ideals and interests, in such a personal way, goes way beyond making some sort of political statement, and the Marines know it.

These Marines will face many challenges and difficulties as they fight the war on terrorism. Their individual futures remain uncertain, but one thing they know is that they can count on our continued support. Your thoughts and prayers for their safety and your generous support for their families at home will allow them to fully focus on their assigned combat missions.

Donations made to the City of Newport Beach exclusively for public purposes are considered to be tax deductible in accordance with IRC 170(c)(1), as long as the donor does not receive any substantial benefit in return for the contribution. It is not the City's intent to express an opinion on the tax-deductible nature of the donations. It is up to you and your tax advisor to make this conclusion. We greatly appreciate any contributions to the 1/1 Fund.

Donations can be made payable and mailed to:

City of Newport Beach 1/1 Fund
P.O. Box 1768
Newport Beach, CA 92658
Visit the Newport Beach 1st Battalion, 1st Marines Foundation website at oneonemarines.com.