Construction Activity Ordinance
Effective August 12, 2019
On June 11, 2019, the City Council adopted Ordinance No. 2019-9 restricting construction-related noise on Saturday in the designated High-Density Areas; as well as requiring a project information sign for new construction and substantial remodels.
The High-Density Area map identifies the following: Balboa Island, Balboa Peninsula, Bay Island, Bay Shores, Collins Island, Corona Del Mar Village, Harbor Island, Linda Isle, Lido Isle, West Newport and Newport Shores (Exhibit A of Ordinance No. 2019-9).
The ordinance does not prevent a homeowner or any individual from performing maintenance work on their property as long as it is done in a manner that limits disturbance from noise and remains in compliance with the Newport Beach Municipal Code (NBMC).
Homeowners and contractors have until August 12, 2019 (effective date) to make arrangements under their current contractual agreements to comply with the NBMC ordinance. Violations of the City ordinance will be subject to code enforcement actions and citations pursuant to the provisions of NBMC § 10.28.040 and NBMC § 1.04.10.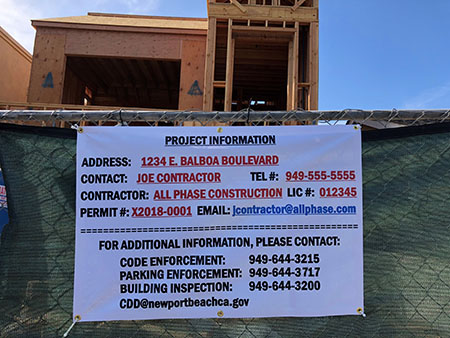 High-Density Areas(Click to Enlarge)