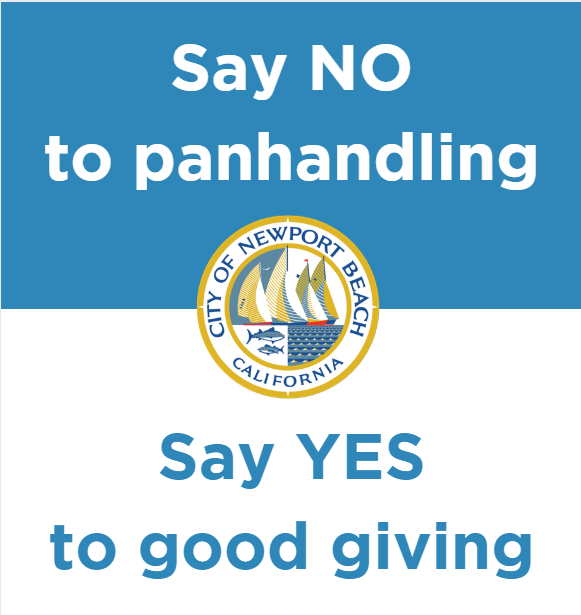 Thank you for your interest in how to help people experiencing homelessness in Newport Beach. We appreciate your efforts to approach this crisis using a humanistic approach that focuses on giving in a good way.
To make a financial donation to help our efforts to end homelessness in Newport Beach, please click here.
Below you can find resources for short to long-term responses as well as links to charitable 501(c)(3) organizations that provide housing and comprehensive supportive services and whose missions are to end homelessness.
2-1-1, Orange County - Free 24-hour information and referral helpline. Dial 2-1-1 from any phone, or call 888-600-4357 or 949-646-4357.
Mercy House - Provides housing and comprehensive supportive services for a variety of homeless populations which includes families, adult men and women, mothers and their children, persons living with HIV/AIDS, individuals overcoming substance addictions, and some who are physically and mentally disabled.
Serving People In Need (SPIN OC) - Committed to helping homeless families with children and the working poor through quality programs and services centered on building self-sufficiency. SPIN is an access point for homeless families in central Orange County.
Chrysalis - Dedicated to creating a pathway to self-sufficiency for homeless and low-income individuals by providing the resources and support needed to find and retain employment.
Second Chance OC - Helps low-income individuals recovering from addiction and experiencing homelessness by providing individualized supportive services, including job placement, life skills, job skills, resume creation, work clothing and case management.

Share Our Selves (SOS)

- Designated as a Healthcare for the Homeless provided, Share Our Selves offers onsite outreach medical programs, food and clothing for homeless individuals.
Information on this page is provided as a community resource only. The City of Newport Beach (City) does not endorse or recommend non-City related organizations listed on this page or on the websites of the provided resources. The City reserves the right to limit what is posted per City Council Policy D-5, Digital Communications.