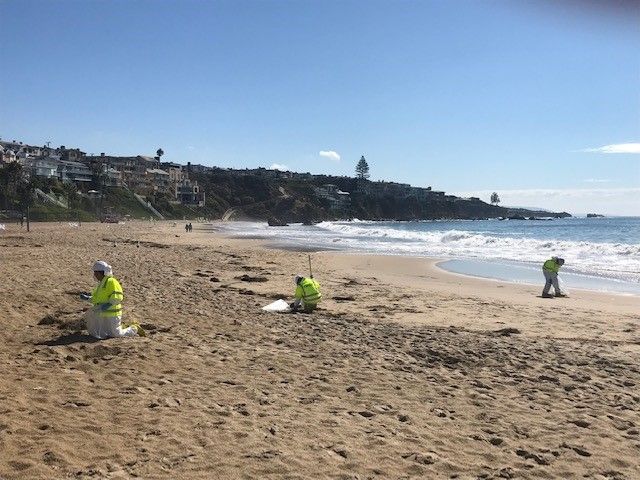 Incident Overview
On Saturday, October 2, the City of Newport Beach was notified of an oil spill located approximately 3-4 miles off the coast of Huntington Beach. The spill created an oil slick that stretched approximately 13 square miles. Oil was first observed onshore in Newport Beach the following day, when it was found on City beaches between 52nd Street and the Santa Ana River.
Preliminary results of the investigation indicate that the leak originated from a broken pipeline connected to Oil Platform Elly, an offshore oil rig owned by Amplify Energy Corporation. Current estimates are that 126,000 gallons of oil leaked into ocean waters.
The multi-agency, cleanup response and incident investigation is being led by the U.S. Coast Guard and the state Dept. of Fish and Wildlife. It includes County of Orange, the cities of Huntington Beach, Newport Beach and Laguna Beach and Amplify Energy.
Advisories and Closures
The state Dept. of Fish and Wildlife has temporarily prohibited all fishing and collecting of shellfish (both recreational and commercial) from Huntington Beach south to Dana Point.
As of Monday, October 11, the beaches are fully reopen. Residents and visitors are advised to avoid contact with any oiled areas of the beach and tar balls that wash ashore.
The entrance to Newport Harbor reopened Friday, October 8 following a five-day closure.
Beach Clean Up
Trained spill response contractors have been dispatched to clean up the oil. Public volunteers are not needed at this time and could hinder response efforts.
Oil-Impacted Wildlife Concerns
Members of the public are advised to avoid contact with oiled wildlife and to stay away from tidepools and other sensitive wildlife habitat. Please call (877) 823-6926 to report wildlife impacted by the spill.
Volunteer Opportunities
Community volunteers that meet the following minimum requirements are asked to complete the volunteer registration form at
https://calspillwatch.wildlife.ca.gov/Volunteer
Be at least 18 years of age
Be able to lift up to 25 pounds
Be willing to follow County Public Health COVID procedures.
For a registration form and more information visit https://calspillwatch.wildlife.ca.gov/Volunteer
To reach the Volunteer Hotline call 1-800-228-4544.
In addition, Newport Beach and other coastal cities are partnering with Surfrider to help coordinate volunteer opportunities in the near future. Register at www.cleanups.surfrider.org to be notified of future opportunities.
Emergency Proclamation
City Manager Grace Leung, acting in her capacity of director of emergency services, signed a proclamation of local emergency on October 5. The City Council will be asked to ratify the proclamation at its October 12 meeting.
District 1 Town Hall Presentation
Chief Lifeguard Mike Halphide provided a report on the oil spill at the October 5 Town Hall meeting.
City Beaches Fully Open After Tests Affirm Water Quality
Post Date:
10/11/2021 2:06 pm
All City beaches are fully open as of 2 p.m. Monday, October 11, after water quality testing showed the ocean water is safe for swimmers and surfers to return.
The City issued a beach advisory on October 2, prohibiting public access to the water on ocean-facing beaches, after a large oil spill was identified off the coast of Newport Beach and Huntington Beach.
Water quality testing of samples collected on Friday, October 8 did not show unhealthful levels of petroleum-related toxins.
Water quality samples were analyzed by Eurofins Calscience, an independent water-testing lab hired by the City. Ten locations were sampled that had been impacted by the spill, from the Santa Ana river jetty to little Corona del Mar beach. Among other toxins, the samples were tested for Polycyclic Aromatic Hydrocarbons (PAH) and total petroleum hydrocarbons, which are indicators for the levels of oil present in the ocean water.
The testing did not reveal any detectable levels of PAH or petroleum hydrocarbons at eight of the 10 locations. Some remaining oil was detected at low, non-toxic levels at two locations, the Wedge and Balboa Pier.
The City will continue monitoring the water quality of its ocean beaches on a regular basis for the next several weeks.
The water quality report is available on the City's web site at this link.
While most of the onshore oil has been removed, the public can expect to see oiled materials and tar balls continue to wash up on the beach. Residents and visitors are advised to use care as they traverse the tidal zone to avoid stepping in or spreading tar patches that may wash ashore.
Please do not handle or collect any oiled materials. If you do see oil or tar balls on the beach, contact the beach clean-up teams at tarballreports@wildlife.ca.gov.
The public will continue to see cleanup crews on the beaches to survey and clean any additional oil and tar that washes up on the shoreline.
Community members who would like to volunteer in the cleanup effort are encouraged to register at https://calspillwatch.wildlife.ca.gov/Volunteer.
Members of the public are advised to avoid contact with oiled wildlife. If anyone encounters oiled wildlife, please call 1-877-823-6926.
For more information and updates, please visit Newport Beach's web site at www.newportbeachca.gov/oilspill and the official incident response website at www.socalspillresponse.com.
Return to full list >>